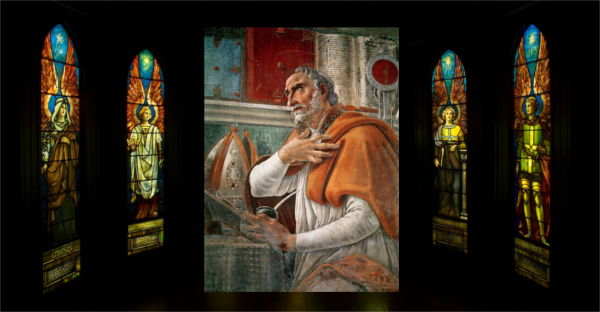 The good things of this world really are good, says St. Augustine. But we shouldn't desire them more than the better things of the next world. If the good things of this world lead us away from God, then they lead us toward misery.
The earthly city, which will not last forever (for it will no longer be a city when it has been committed to the extreme penalty) has its good in this world, and rejoices in such things as it can rejoice in.
If it is puffed up with pride when it is victorious, its victory is deadly. But if it turns its thoughts on the common fate of the human condition, and is worried about the disasters that might come rather than elated with its success, this kind of victory is still short-lived—for it cannot hold onto its rule over those whom it has victoriously conquered.
Still, we cannot rightly call the things this city desires evil, for it is in itself, in its own way, better than all other human good. It desires earthly peace for the sake of enjoying earthly goods, and it makes war to gain this peace—since, if it has conquered, and no one is left to resist it, it enjoys a peace it could not have while there were still opposing parties, both of which wanted what there was not enough of for both. This peace is bought by laborious wars; it is gained by what they call a glorious victory.
Now, when the victory stays with the side that had the juster cause, does any­one hesitate to congratulate the victor and call it a desirable peace? These things are good things, and doubtless the gifts of God.
But if they neglect the things of the heavenly city, which are secured by eternal victory and unending peace—if they covet these present good things so much that they think they are the only desirable things, or love them better than those things we believe to be better—then misery must necessarily follow, and keep growing.– . Augustine, City of God, 15.5
IN GOD'S PRESENCE, CONSIDER . . .
How much of my effort goes into securing prosperity and peace for myself and my family?
How much of my effort goes into securing heaven for us?
CLOSING PRAYER
Lord, guide and direct our governments, army, magistrates, councils, and neighborhoods, and all our comings and goings, in the ways of peace.
---
Remember to subscribe to my feed so you will not miss a day! This recurring feature at The Catholic Book Blogger is possible through the cooperation of author Mike Aquilina and publisher Saint Benedict Press. To get your own copy of this book, click below.