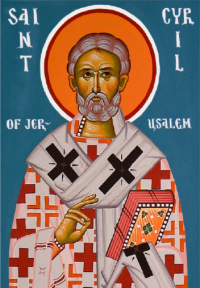 Lead us not into temptation
When we pray "Lead us not into temptation," are we praying that we should never be tempted at all? No, says St. Cyril of Jerusalem—temptation is always there. But, like St. Peter, we can get over it and come through the other side.
"And lead us not into temptation."
So is the Lord teaching us to pray that we should not be tempted at all? Then why would it be said elsewhere that "a man untempted is a man untested"? And again, "Count it all joy, my brethren, when you meet various trials" (James 1:2)? Or does be­ing led into temptation perhaps mean being overwhelmed by temptation?
For temptation is like a stream flooded in the winter, hard to cross. Those who are not overwhelmed by temptations pass through it, showing that they are excellent swimmers, and are not swept away by them. Those who are not such good swimmers are overwhelmed. Judas, for example, having entered into the temptation of money, did not swim through it, but was overwhelmed and strangled both in body and in spirit. Peter entered into the temptation of the denial—but he manfully swam through it, and was delivered from the temptation.
And in another place, listen to a group of unscathed saints giving thanks for their deliverance from temptation:
For you, O God, have tested us;
you have tried us as silver is tried.
You brought us into the net;
you laid affliction on our loins;
you let men ride over our heads;
we went through fire and through water;
yet you have brought us forth to a spacious place (Psalm 66:10-12).
You see how boldly they speak of having passed through: coming forth into a spacious place means being delivered from temptation.
–St. Cyril of Jerusalem, Lecture 23, 17
IN GOD'S PRESENCE, CONSIDER . . .
What temptations threaten to overwhelm me?
Am I doing all I can to swim straight through them?
CLOSING PRAYER
Lord, be merciful to your servant: free me from temptation and guide the desires of my heart. May your loving forgiveness keep me from the punishment my sins deserve.
___________________________________________________________________________________________________________________
Remember to subscribe to my feed so you will not miss a day! This recurring feature at The Catholic Blogger is possible through the cooperation of author Mike Aquilina and publisher Saint Benedict Press. To get your own copy of this book, click below.