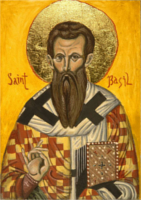 Look for quiet when you pray
St. Basil tells us that a quiet heart will help us overcome our passions and our temptations. We have to break our bad habits and start new good habits, and a little solitude will help a lot.
We must work to have a quiet mind. You can't see an object right in front of you if your eye is moving restlessly up and down and sideways; you have to look at it steadily. In the same way, your mind can't understand the truth if it's distracted by a thousand worldly cares.
A man who isn't married yet is harassed by frenzied longings, rebellious im­pulses, hopeless heartaches; a man who has found his mate is surrounded by his own storm of cares. A man with no children longs for children; a man with children worries about their education. You worry about your wife, your house, a downturn in your business. Every day that comes on darkens your soul in its own way, and night after night picks up where the day's worries left off, and cheats your mind with dreams to match your daily worries.
One way to escape all this is to separate from the whole world. I don't mean a physical separation, but cutting off your soul's sympathy with the body so that your heart can be ready to receive every impression of God's teaching. We prepare the heart by unlearning the prejudices we pick up in evil conversation—like wiping a slate clean before you write on it.
Solitude is extremely useful for this purpose. It quiets our passions and gives our principles a chance to cut them out of our soul. Just as animals are easier to control when you pet them, lust and anger, fear and sorrow—deadly enemies of the soul—are easier to bring under the control of reason after they've been calmed by doing nothing, where there isn't constant stimulation. Find a place like ours, away from dealings with other people, so that you won't have outside interruptions breaking in on your prayers.
–St. Basil, Letter 2, 2
IN GOD'S PRESENCE, CONSIDER . . .
When I try to pray, am I often distracted by other people, or by my own mind thinking about other things?
Where could I find a quiet place to sit and meditate for a while?
CLOSING PRAYER
Lord, help me see that this world is only temporary, and that the joy of heaven is my true future. Help me remember that this life is short, and the life to come lasts forever.
___________________________________________________________________________________________________________________
Remember to subscribe to my feed so you will not miss a day! This recurring feature at The Catholic Blogger is possible through the cooperation of author Mike Aquilina and publisher Saint Benedict Press. To get your own copy of this book, click below.