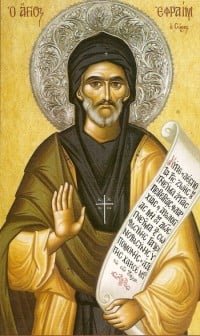 Let creation be your book
You can be truly free from rules and laws, says St. Ephrem the Syrian, if you order your life the way nature itself teaches you to order it.
Yoke yourself under the law, so that you may truly be free. Do not work the desire of your soul apart from God.
How many commandments must I write—how many laws must I engrave— when, if you desire your freedom, you could learn them all from yourself ? And if you love purity, you will teach it to others as well. Let nature be your book, and creation your tablets; learn the laws from them, and meditate on things unwritten.
The sun in its course teaches you to rest from labor. The night in her silence cries out that a limit is set to your works. The earth and the fruit of the tree cry that there is a season for everything. From the seed you sow in the winter you gather a harvest in the summer. Thus in the world sow seeds of righteousness, and in the resurrection gather them in. The bird in its daily gleaning reproves the covetous one and his greed, and rebukes the extortion that grasps at the property of others. Death, the limit of all things, is the reprover of all things.
–St. Ephrem the Syrian, Homily on Admonition and Repentance, 18
IN GOD'S PRESENCE, CONSIDER . . .
Do I take the time to read the book of creation?
CLOSING PRAYER
Father, I give you thanks that by your living Word you put order into a world without shape, with marvels that no tongue can adequately describe.
__________________________________________________________________________________________________________________________
Remember to subscribe to my feed so you will not miss a day! This recurring feature at The Catholic Blogger is possible through the cooperation of author Mike Aquilina and publisher Saint Benedict Press. To get your own copy of this book, click below.