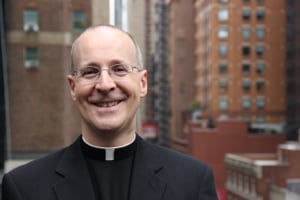 Welcome back to "The Clergy Speaks", a recurring feature here at The Catholic Book Blogger. "The Clergy Speaks" is a column focusing on one question I have asked various members of the clergy. That question is: What five books would you recommend as must-reads for Catholics today? I left the responses open to current or classic books with the only restriction being that the Bible and the Catechism could not be used as they are a given. This week we welcome Father James Martin, S.J. author and editor at large at America, the national Catholic magazine.
James Martin was born in Plymouth Meeting, Pa., and was graduated from the University of Pennsylvania's Wharton School of Business in 1982, where he received his bachelor's degree in economics (B.S. Econ.) with a concentration in finance. After working for six years in corporate finance with General Electric in New York City and Stamford, Ct., he entered the Society of Jesus (the Jesuits) in 1988. After completing his Jesuit studies, he was ordained a Catholic priest in June 1999 in Chestnut Hill, Ma. On Nov. 1, 2009, he pronounced his final vows as a "fully professed" Jesuit in New York City.
Father Martin began his work at America magazine in 1995 as associate editor, returned after ordination in 1999 as associate editor and since then has also served as culture editor, acting publisher and now editor at large. Besides his editorial, publishing and media work, Father Martin has been invited by Catholic dioceses and archdioceses to address gatherings of clergy and laity, has spoken at colleges and universities across the country, has taught at Boston College's Summer Institute, and leads seminars and directs retreats at retreat houses. On Sundays he assists at the Church of St. Ignatius Loyola in New York City.
Here are his picks for 5 must read books:
1.) Mariette in Ecstasy
, by Ron Hansen. The religious experiences, and possibly miraculous ones, of a young nun in upstate New York. One of the best books about the faith ever written. Luminous.
2.) The Cloister Walk
, by Kathleen Norris. A Presbyterian woman's open and honest relationship with a Benedictine monastery. A remarkable exploration of faith, prayer and friendship.
3.) He Leadeth Me, by Walter Ciszek, SJ. How did a Jesuit priest survive decades in Soviet prisons and concentration camps? This is Father Ciszek's extraordinary answer.
4.) God and You, by William A. Barry, SJ. The best modern book on prayer I know. What does it mean to have a "personal relationship" with God? Find out.
5.) The Seven Storey Mountain
, by Thomas Merton. The granddaddy of modern Catholic spiritual memoirs. Merton's compelling story of conversion told with his trademark passion.
James Martin, SJ, author of "Jesus: A Pilgrimage."
__________________________________________________________________________________________________________________________
To see the rest of "The Clergy Speaks" columns, click here.