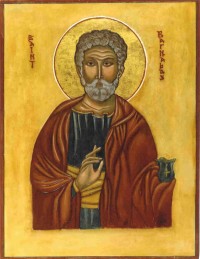 Find the temple in your heart
When the Epistle of Barnabas was written, the Temple in Jerusalem—the center of the worship of God for a thousand years—had been destroyed, never to be rebuilt. But there is still a temple of God, says Barnabas.
Is there still a temple of God? There is—where he himself declared he would make and complete it.
Learn, then, how it will be built in the name of the Lord. Before we believed in God, the dwelling of our heart was corrupt and weak, just like a temple made with hands. It was full of idolatry and was a dwelling for demons, because we did what was opposed to God.
But now it will be built in the name of the Lord, so that the temple of the Lord may be built in glory. How? Learn: since we have received the forgiveness of sins, and put our trust in the name of the Lord, we have become new creatures, remade from the beginning. So now the dwelling of God is really inside us. How? His word of faith; his calling of promise; the wisdom of the laws; the commands of the teaching; God himself prophesying in us, dwelling in us, opening to us who were slaves to death the doors of the temple—that is, the mouth. By giving us repentance he brought us into the incorruptible temple.
This is the spiritual temple built for the Lord.
–Epistle of Barnabas, 16
IN GOD'S PRESENCE, CONSIDER . . .
Have I made my heart a suitable dwelling place for God? Or do I have a bit of cleaning up to do?
CLOSING PRAYER
Father, cleanse my heart from every kind of pollution. Drive all unholy thoughts away from me, and sanctify my soul and my mind.
__________________________________________________________________________________________________________________________
Remember to subscribe to my feed so you will not miss a day! This recurring feature at The Catholic Blogger is possible through the cooperation of author Mike Aquilina and publisher Saint Benedict Press. To get your own copy of this book, click below.