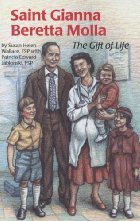 Laura is back with her review of another great volume from Pauline Books and Media's Encounter the Saints series.

Saint Gianna Beretta Molla: The Gift of Life (Encounter the Saints)
written by Susan Helen Wallace, FSP and Patricia Edward Jablonski, FSP is a heartwarming story of a modern saint who was not only a loving wife and mother, but also a beloved doctor. At a time when very few women studied to become doctors, Gianna persevered and studied hard to earn her medical degree. Doctor Beretta saw Jesus in the people she treated and the people saw Jesus in her. She was genuine. She was compassionate. She truly cared for their bodies, as well as, their souls.
What is it that elevates this lay mother to the ranks of sainthood? The young reader sees Gianna grow up in a loving Catholic family who foster in her the love of Jesus. She learns the importance of daily Mass and prayer. This upbringing brings the prospect of her becoming a nun or a missionary; however, that was not to be. God has different plans for Doctor Gianna. She meets her future husband, Pietro, after treating his dying sister. They both come to realize what their vocation in life will be – marriage. Piously they prepare for their wedding knowing God will be and should be the center of their new family-to-be. Eventually, they go on to have three children; all the while Gianna continuing her doctor duties. Gianna treasures these little "blessings" as she calls them, and together with her husband happily raises them to bring glory to God. The couples' real trial begins with Gianna's fourth pregnancy. Knowing there is a possibility that both she and the baby cannot be saved, Gianna is sure to tell her husband that the baby's life comes first. That sad reality would come to pass as Gianna gives her life for that of her child.
This children's biography is a wonderful example of the Christian lay life and Christian family life for everyone. This is not your typical saint book about a great pope, a great priest, or a great nun, but simply a wife and mother who lived her vocation with great love – a love that brought about a new life while heroically giving up her own. In a time when the world places little value on married life, family life, and especially human life, Gianna shows us how to put others before ourselves for the love of God. Hers is a simple message of self-sacrifice, a simple message of giving yourself to God, and a simple message of great love.
__________________________________________________________________________________________________________________________
We received a copy of the book for this review from the publisher, Pauline Books and Media.