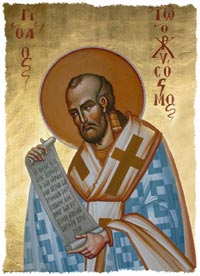 Rely on what no one can take away
Expensive tack doesn't make a good horse, says St. John Chrysostom. Likewise, wealth, health, and reputation don't make a good man. All these things can be taken away, but nothing can take away real virtue.
What is the virtue of a horse? Is it to have a bridle studded with gold and straps to match, and a silk band to fasten the housing, and colorful clothes embroi­dered with gold thread, and headgear studded with jewels, and hair braided with gold cord? Or is it to be swift and strong in its legs, even in its paces, and to have hooves that fit a well-bred horse, and courage for long journeys and warfare, and to be calm on the battlefield, and to save its rider if there is a rout? Isn't it obvious that these are the things that make the virtue of the horse, and not the others?
And what kind of vine should we admire? One that's covered with leaves and branches, or one loaded down with fruit? Or what kind of virtue belongs to an ol­ive tree? Is it to have big branches and lots of leaves, or is it to have an abundance of its own fruit all over the tree?
Well, let's look at human beings the same way. What is the virtue of a man? Not riches, so that you fear poverty. Not bodily health, so that you are afraid to get sick. Not public opinion, so that you fear a bad reputation. Not life just for its own sake, so that death is terrible to you. Not freedom, so that you avoid servitude.
No, the virtue of a man is carefulness in holding true doctrine, and righteous living. Not even the devil himself can take these things away from you if you have them, as long as you take the necessary care to guard them.
–St. John Chrysostom, No One Can Harm the Man Who Does Not Injure Himself, 3
IN GOD'S PRESENCE, CONSIDER . . .
How much of my effort goes into true doctrine and righteous living?
How much goes into riches, health, and what other people think of me?
CLOSING PRAYER
Lord, I do not desire gold and silver, or precious stones, or gorgeous garments, but I pray only that I may find grace before you, and that you may open when I knock.
__________________________________________________________________________________________________________________________
Remember to subscribe to my feed so you will not miss a day! This recurring feature at The Catholic Blogger is possible through the cooperation of author Mike Aquilina and publisher Saint Benedict Press. To get your own copy of this book, click below.