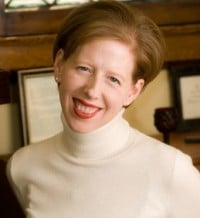 PETE: Your latest work The American Catholic Almanac is packed with 365 daily entries full of inspiring stories. How did you choose what to include and how long did this undoubtedly massive project take?
EMILY STIMPSON: Honestly, the whole process was a bit like sausage making: terribly messy on the front end, but well worth it on the back end! Brian and I had a wonderful research assistant, Tom Crowe, who did yeoman's work establishing the calendar. Tom started by assembling a list of the "biggies"—saints, blessed, and venerables, plus important cultural and political figures and key moments in American Catholic history. He then dug deeper to find the more forgotten characters. As he did that, he fixed the people and events to dates on the calendar and supplied us with an initial list of books and articles to read about everything and everyone.
After that, as we researched more deeply and began the writing process, we discovered even more stories we wanted to include. Our biggest problem was that there were some days where 10 important things happened, and other days where apparently nothing at all took place. Making it all work was like putting together a giant jigsaw puzzle that spanned 500 years. In the end, however, it all worked out. Mostly because of the Holy Spirit. There's really no other way to account for everything coming together.
As for how long the project took? Not long enough! Tom began the research at the beginning of August 2013, I wrote the very first entry on September 30, 2013, and exactly one year to the day later, the book was released. It was an insane schedule that took a great many hands and minds (and lots of prayers). The fact that I remain a functioning human being after this past year is really somewhat of a miracle.
PETE: Were there any stories that did not make the final cut but you wish would have and would you like to share them with us here?
EMILY STIMPSON: Well, one of my favorite stories that I keep repeating to people was about Sacramento's first bishop, Patrick Manogue. His story is included in the Almanac, but I didn't have room to include all the colorful anecdotes about him. Manogue was a giant of a man, standing well over six feet tall, who paid for his seminary education by striking it rich in the California Gold Rush. After his ordination, his bishop sent him off to Nevada to serve as a missionary priest. Nevada was not for the faint of heart in those days, and it took a special kind of priest to minister to the rough mining men who populated the territory. Manogue was that kind of priest.
Case in point: One night, he heard that a woman was dying and wanted to see a priest. When he showed up at her cabin, however, her husband was barring the way. He didn't trust the Church and didn't want any priest talking to his wife. Gentle reason wasn't going to work on the man, and Manogue knew it. So, the priest slugged the husband—knocking him to the ground—and continued inside. He prayed with the woman, heard her Confession, then administered Last Rites. When he emerged, he found the husband sitting there, absolutely dazed! But from that day forward, both the husband and his friends had a newfound respect for the Church. Behavior like that can sound scandalous to us, but I think it illustrates what Paul said about "becoming all things to all men." Evangelization isn't a cookie-cutter thing, and if you start to treat it that way, you become far less effective. Father (eventually Bishop) Manogue knew that, as did the other great missionary Fathers and Sisters who built the Church here.
PETE: How do you envision this book being used? Personal study, homeschool use, etc.?
EMILY STIMPSON: There is no one way to use it, which is part of its beauty. At its most basic, the American Catholic Almanac is a storybook. It's meant to inspire, but also to inform, amuse, and entertain. I've heard from some people who are reading it as part of their morning devotional—so, a story a day. I've heard from others who weren't so patient and gobbled the whole thing up in a few days time. If I were a parent, I would definitely want it on my shelves to incorporate into homeschooling lessons or to supplement what was being taught in the classroom. Right now, I have my copy sitting out in my living room so friends can just thumb through it and read whatever story they happen to open it up to. It's a fun book, with 365 short stories in it, so really the options are endless.
PETE: Since this is the first time I have interviewed you Emily, could you tell us about some of the other books you have authored and any projects you are currently working on?
EMILY STIMPSON: This is my third book. My first, The Catholic Girl's Survival Guide for the Single Years (a light book about the practical issues young single women face in this culture) came out in 2012, and my second, These Beautiful Bones: An Everyday Theology of the Body (which looks at what the theology of the body has to teach us about life outside the bedroom), came out in in 2013. Then, of course, there is all the other writing I do for Our Sunday Visitor, Franciscan University, CatholicVote, and other Catholic publications and institutions. My interests are wide and varied, so my writing reflects that. The next project I'm really excited about, however, isn't a book at all. The Boston Globe has asked me to start writing a travel column for their online Catholic site, Crux (www.cruxnow.com), and I'm busy planning fun places to go. Actually, this is going to give me the chance to visit many of the parishes and shrines that I wrote about in the Almanac, so the timing couldn't be better.
PETE: Time for my signature ending question. This is a blog about books. What is currently on your bookshelf to read?
EMILY STIMPSON: I'm a terrible example to follow! I read so many Catholic books and serious cultural critiques for work that I don't want to read anything serious in my spare time. Technically speaking, over the next two weeks, for various projects I'm doing, I have to read Jason Evertt's Saint John Paul the Great, George Weigel's Evangelical Catholicism, Nicholas Carr's The Glass Cage, and Christian Smith's Young Catholic America. But on the weekend, the only think you'll find me reading are mysteries—usually old ones, by Agatha Christie, Dorothy Sayers, or Mary Roberts Rinehart. I'm a sucker for vintage murderous fluff!
__________________________________________________________________________________________________________________________


More books by Emily Stimpson:
These Beautiful Bones: An Everyday Theology of the Body
The Catholic Girl's Survival Guide for the Single Years: The Nuts and Bolts of Staying Sane and Happy While Waiting for Mr. Right