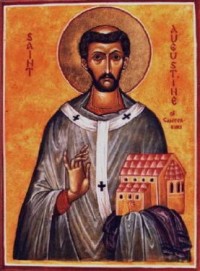 Distinguish what's important to be right about
St. Augustine tells us that we can be wrong about some things without causing any harm. What we can't be wrong about is moral principles. It's not bad in itself to think that someone is good when he's actually an adulterer, but it's quite another thing to think that adultery is good.
In some things, we are deceived in great matters; in others, small. In some of them no harm is done; in others, even good comes of it.
It is a great evil for a man to be deceived so as not to believe what would lead him to life eternal, or what would lead to eternal death. But it is a small evil to be deceived by believing a falsehood as the truth in a matter where one brings on himself some temporal setback which can then be turned to good use by being borne in faithful patience. Take the man who believes a bad man to be good, yet suffers no harm at his hand. He calls the man good on the basis of what he sup­posed him to be, and this is undoubtedly a good thing. Moreover, he calls adultery bad and chastity good. But he calls this particular man good in ignorance of the fact that he is an adulterer and not chaste.
But when I say that in such a case you may be deceived without suffering harm from it, or even may gain some benefit from it, I am not saying that error is not a bad thing. Error, in itself and by itself, whether a great error in great matters or a small error in small affairs, is always a bad thing. For who, except in error, denies that it is bad to approve the false as though it were the truth, or to disap­prove the truth as though it were falsehood, or to hold what is certain as if it were uncertain, or what is uncertain as if it were certain? It is one thing to suppose that this particular road is the right one when it is not. It is quite another thing that, from this error—which is a bad thing—something good actually turns out, such as being saved from the onslaught of wicked men.
–St. Augustine, Enchiridion, 6
IN GOD'S PRESENCE, CONSIDER . . .
Do I hold fast to the teachings of the Church on moral questions?
CLOSING PRAYER
Lord, send your truth to me, so that I may live a life that bears fruit a hundredfold, and be counted worthy of the Kingdom of heaven.
__________________________________________________________________________________________________________________________
Remember to subscribe to my feed so you will not miss a day! This recurring feature at The Catholic Blogger is possible through the cooperation of author Mike Aquilina and publisher Saint Benedict Press. To get your own copy of this book, click below.