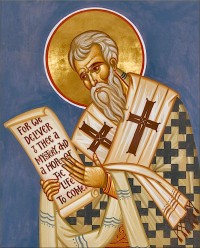 Thoughts of sin are seeds of sin
A little weed, says St. Cyril of Jerusalem, can eventually break a rock apart with its roots. If you let in thoughts of sin, the sins themselves will follow.
Now, someone might say, "What can sin be? Is it a living thing? An an­gel? A demon? What is this thing working inside us?"
It is not an enemy that attacks you from outside, but an evil shoot growing up from inside yourself. "Let your eyes look directly forward" (Proverbs 4:25), and there is no lust. Do not take what belongs to others, and robbery is dead. Remember the judgment, and neither fornication, nor adultery, nor murder, nor any breaking of the law will prevail over you.
But whenever you forget God, you immediately begin to plot wickedness and commit evil.
Yet you are not the sole author of evil. There is another very wicked prompter: the devil. He does suggest evil, but he cannot conquer by force those who do not consent.
Therefore, says the Preacher, "If the anger of the ruler rises against you, do not leave your place" (Ecclesiastes 10:4). Shut your door and keep him far away from you, and he will not hurt you. But if you carelessly let in the thought of lust, it strikes root in you with its suggestions, and makes your mind its captive, and pulls you down into a pit of evils.
But perhaps you're saying, "I'm a believer, and lust can't get the upper hand over me, even if I think about it often." Don't you know that a root breaks even a rock by steady persistence? Don't let the seed in, or it will tear your faith apart. Rip out the evil by the root before it blooms, or because you were careless at the beginning you may need axes and fire later on.
–St. Cyril of Jerusalem, Catechetical Lecture 2, 2-3
IN GOD'S PRESENCE, CONSIDER . . .
How well do I control my secret thoughts?
Have I let weeds sprout there?
CLOSING PRAYER
Creator of all things, I beg you to be my protector. Let sinful thoughts be far from me, and keep back the Enemy, so that my body will not be profaned.
_______________________________________________________________________________________________________
Remember to subscribe to my feed so you will not miss a day! This recurring feature at The Catholic Blogger is possible through the cooperation of author Mike Aquilina and publisher Saint Benedict Press. To get your own copy of this book, click below.