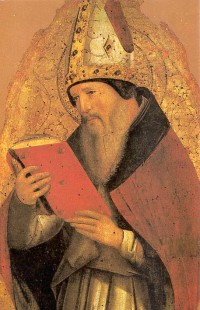 Plant the seeds of love
Are we ready to die for our friends? Maybe not yet. But St. Augustine shows us where the seeds of that perfect love can start to grow in us.
Where does love begin? Listen for a moment.
You've already heard the very end, the perfection of love. The very measure of it is what the Lord has set before us in the Gospel. "Greater love has no man than this," he says, "that a man lay down his life for his friends" (John 15:13).
But you're asking yourselves, "When will it be possible for us to have this kind of love?"
Don't despair of yourself too soon. Perhaps it is born and not yet perfect. Nourish it, so that it won't starve.
But you say to me, "And how am I supposed to recognize it?"
We've heard the perfection of love; now let us hear where it begins. John goes on to say, "But if any one has the world's goods and sees his brother in need, yet closes his heart against him, how does God's love abide in him?" (1 John 3:17).
Here is where love begins! If you're not yet up to dying for your brother, you can still be up to giving what you have for your brother.
–St. Augustine, Homily 5 on the First Epistle of John, 12
IN GOD'S PRESENCE, CONSIDER . . .
How should I be developing my perfect love?
Am I making an effort to show Christian love according to my ability?
CLOSING PRAYER
Father, teach me to share the good things you have given me, and fill my heart with a desire for justice for every human being.
__________________________________________________________________________________________________________________________
Remember to subscribe to my feed so you will not miss a day! This recurring feature at The Catholic Blogger is possible through the cooperation of author Mike Aquilina and publisher Saint Benedict Press. To get your own copy of this book, click below.