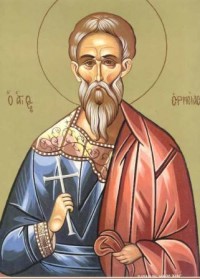 Give, and let God take care of the rest
The visionary Hermas is given simple advice about Christian charity: give when you see a need. Don't worry about whether the recipient really deserves it or whether you're being conned. Your job is to give; God will take care of the rest.
Practice goodness, and from the rewards God gives you for your labors, give to all the needy in simplicity. Don't hesitate about whether you should give or not give to someone. Give to all, for God wants his gifts to be shared among all. The ones who receive will render an account to God of what they have received and why. The afflicted who have received will not be condemned, but the ones who receive on false pretenses will be punished.
So the one who gives is guiltless. For as he received from the Lord, in the same way he has done his service in simplicity, not hesitating about whether he should give or not give to someone. Whoever gives help in simplicity will live to God.
–Hermas, Commandment 2
IN GOD'S PRESENCE, CONSIDER . . .
Do I give willingly when I see a need?
CLOSING PRAYER
Father, as you accepted the gifts of the righteous Abel, accept the humble gifts I offer to you through those who are hungry or homeless.
__________________________________________________________________________________________________________________________
Remember to subscribe to my feed so you will not miss a day! This recurring feature at The Catholic Blogger is possible through the cooperation of author Mike Aquilina and
publisher Saint Benedict Press
. To get your own copy of this book, click below.