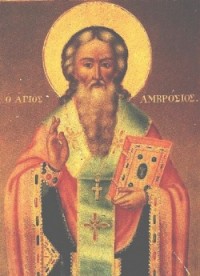 Be generous in secret
If you give so that you can boast about it, says St. Ambrose, you already have your reward on earth in your boasting—which means you shouldn't expect a reward in heaven, too.
It is not a real act of generosity if you give for the sake of boasting about it, rather than for mercy's sake. Your inner feelings give the name to your acts. As it comes forth from you, so will others regard it.
See what a true judge you have! He consults with you how to take up your work, and first of all he questions your mind. "Do not let your left hand know what your right hand is doing," he says (Matthew 6:3). This does not refer to our actual bodies. It means, "Do not let anyone who is of one mind with you, not even your brother, know what you are doing, or you might lose the fruit of your reward hereafter by seeking here your price in boastfulness."
But your generosity is real when you hide what you do in silence, and secretly assist the needs of individuals; and the mouth of the poor, and not your own lips, praises you.
–St. Ambrose, On the Duties of the Clergy, 1.30
IN GOD'S PRESENCE, CONSIDER . . .
If I'm really honest with myself, how much of my charity is based on what I hope people will think about me?
CLOSING PRAYER
Lord, you know my heart. Accept the gifts I bring, and fill me with the spirit of your char­ity, so that I may please you with my thoughts as well as my deeds.
__________________________________________________________________________________________________________________________
Remember to subscribe to my feed so you will not miss a day! This recurring feature at The Catholic Blogger is possible through the cooperation of author Mike Aquilina and
publisher Saint Benedict Press
. To get your own copy of this book, click below.