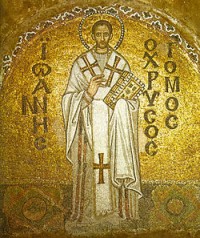 Let difficulties be your teachers
The expulsion from Paradise was a bad thing. Yet look what good came of it, says St. John Chrysostom. The troubles of life after the Fall turned Eve's mind back to God.
Learn from the mother of Cain what a good result came from the expulsion from Paradise. Compare what Eve was before that to what she became afterward.
Before the expulsion, she thought that the lying devil, that wicked demon, was more worth believing than the commandments of God. At the mere sight of the tree, she trampled under her feet the law that had been laid down by God.
But when she was expelled from Paradise, notice how much better and wiser she became. When she bore a son, she said, "I have gotten a man with the help of the Lord" (Genesis 4:1). She flew straight to the Master, when before she had de­spised the Master. She does not attribute the thing to nature; she does not put the birth down to the laws of marriage. Instead, she recognizes the Lord of Nature, and gives him thanks for the birth of the little child.
–St. John Chrysostom, Homily 1 on the Power of Demons, 3
IN GOD'S PRESENCE, CONSIDER . . .
When bad times come, do I grumble, or do I let my troubles bring me ever closer to God?
CLOSING PRAYER
Father, let me not be cast out as a slave of sin, but let me be counted worthy in all difficulties of the protection of your only-begotten Son.
__________________________________________________________________________________________________________________________
Remember to subscribe to my feed so you will not miss a day! This recurring feature at The Catholic Blogger is possible through the cooperation of author Mike Aquilina and publisher Saint Benedict Press. To get your own copy of this book, click below.