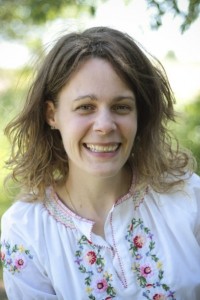 Welcome back to "The Laity Speaks", a recurring feature here at The Catholic Book Blogger. This feature is the companion to "The Clergy Speaks" and takes us to the other side of the pulpit to hear prominent lay people's answer to the same question. That question is: What five books would you recommend as must-reads for Catholics today? I left the responses open to current or classic books with the only restriction being that the Bible and the Catechism could not be used as they are a given.
This week I welcome Sarah Reinhard. She's an author, freelance writer, editor, blogger, and speaker with experience in online, magazine, newspaper, and business writing. Sarah holds a Master of Science from Franklin University in Marketing & Communications.
In addition to daily blogging, Sarah also serves as columnist, editorial assistant, and content editor for active online communities such as CatholicMom.com, CatholicExchange.com, IntegratedCatholicLife.org and others.
Additionally you can find Sarah's work at her blog http://snoringscholar.com/ While there you will see her love of her faith, her God, her family and….. all mugs containing hot coffee.
Here are her must read books for Catholics today:
Youcat, published by Ignatius Press
I've been recommending this to families and parents ever since it came out. As a catechist, I can speak to the relevance and ease-of-use. As a parent, it's easy to share. As a learner myself, it's easy to understand. The fact that it's written for younger readers only helps the rest of us, I think.
Theology of the Body, by John Paul II
For most people, reading the source material is going to be overwhelming. However, there is now a whole body of work that supports and explains JP2's TOB. I suggest starting with the books by Christopher West and Emily Stimpson and Leah Perrault, as they're my favorites. But don't let the supporting work keep you from the actual beauty of what JP2 put together. It's not easy reading. But it's beautiful.
The Screwtape Letters, by C.S. Lewis
I love this book, and I pass it along and share it with everyone I know. In many ways, it's an examination of conscience. It's also highly entertaining, and that never hurts anything…
33 Days to Morning Glory , by Fr. Michael Gaitley
Not only will you be introduced to some of the greatest Marian thinkers of our time, but you will come to love the Blessed Mother more and appreciate just what consecration is. This book is so accessibly written and beautifully done that it's worth rereading often.
At least something by G.K. Chesterton
He wrote so much and so well and such a varied body of work. Every Catholic should read some Chesterton. We owe it to ourselves.
Runners-up
The Sinner's Guide to Natural Family Planning, by Simcha Fisher
There go all the myths about NFP. Fisher is straightforward, hilarious, and factual. This isn't a how-to book, but I think it speaks to challenges that many couples face.
Forming Intentional Disciples: The Path to Knowing and Following Jesus, by Sherry Weddell
This book is simply awesome. It looks at the heart of our faith and forming it within ourselves.
Evangelical Catholicism: Deep Reform in the 21st-Century Church, by George Weigel
I picked this up after my pastor mentioned reading it at least twice. I see why he did: it's heavy on ideas and thoughts and leaves you with plenty to think about.