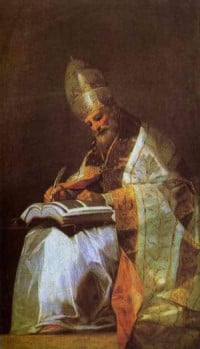 Don't forget to give thanks
Rome came very close to being destroyed by Attila the Hun, but Pope St. Leo the Great went out unarmed to meet the unstoppable conqueror and somehow persuaded him to turn back. Here Leo scolds the Romans for failing to give proper thanks to God for their deliverance.
I beg you, dear friends, let the words of the Savior touch our hearts. When by the power of his mercy he had cured ten lepers, he said that only one out of all of them had come back to give thanks—doubtless meaning that, though the ungrateful ones had gained bodily health, yet they failed in this godly duty because of ungodliness of health.
Don't let yourselves be accused of the same kind of ingratitude! Remem­ber the wonders he was pleased to perform among us. Attribute our deliverance not—as the ungodly think—to the influence of the stars, but to the unspeakable mercy of Almighty God, who has been pleased to soften the hearts of raging barbarians. Then come to the commemoration of such a great benefit with all the enthusiasm of faith.
–St. Leo the Great, Sermon 84, 2
IN GOD'S PRESENCE, CONSIDER . . .
Have I shown proper gratitude for all the wonders God has done in my life?
CLOSING PRAYER
Lord, with your help may I never fail to praise you for all the gifts you have given me in your creation.
__________________________________________________________________________________________________________________
Remember to subscribe to my feed so you will not miss a day! This recurring feature at The Catholic Blogger is possible through the cooperation of author Mike Aquilina and publisher Saint Benedict Press. To get your own copy of this book, click below.