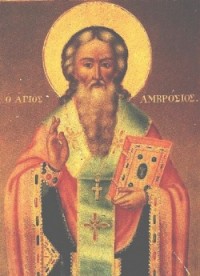 Be satisfied with enough
It's easy to have more than enough to get by, says St. Ambrose. But lust and greed always want more. Control them, and you'll find that you live in abundance.
If you want to be rich, you must be poor. Then you will be rich in every­thing, if you are poor in spirit. It isn't property that makes you rich, but the spirit.
There are those who humble themselves in the midst of abundant riches, and they act rightly and prudently. For the law of nature is rich enough for every­one, and according to that law you can soon find more than enough for yourself. But for lust, abundance of riches is still poverty.
So poverty is not in nature, but in our own feelings. It's easy for nature to find itself rich, but hard for lust. The more a man gains, the more he wants to gain, and he burns with a kind of drunkenness from his lusts.
–St. Ambrose, Letter 63, 90
IN GOD'S PRESENCE, CONSIDER . . .
Have I given my own fate completely into God's hands?
Do I put too much emphasis on gaining more—whether it's possessions or influ­ence or any other worldly thing?
CLOSING PRAYER
Father, you provide for all your creation. Let the living bread I receive from heaven give me strength to work for what I need and to give my help to my sisters and brothers who are still hungry.
__________________________________________________________________________________________________________________
Remember to subscribe to my feed so you will not miss a day! This recurring feature at The Catholic Blogger is possible through the cooperation of author Mike Aquilina and
publisher Saint Benedict Press
. To get your own copy of this book, click below.