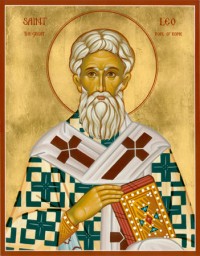 Be pleased with what pleases God
God knows more than we do, and sometimes hard times may do us as much good as good times. St. Leo the Great reminds us to be thankful for both, and let the uncertainty of life teach us spiritual constancy.
God wants us to be good, because he is good. So none of God's judg­ments should displease us. For if we don't give him thanks in all things, what are we doing but blaming him to some extent?
Let whatever pleases God please us, too. Let us rejoice in whatever measure of gifts he gives. Let him who has used great possessions well use small ones just as well. Plenty and scarcity may be equally for our good. Even in spiritual progress we won't be discouraged at little results if our minds don't become dry and barren.
What the earth failed to give, let that spring from the soil of our heart. If you do not fail in good will, you will always be given the means.
Therefore, dear friends, in all works of godliness let us use what each year gives us. Don't let hard times hinder our Christian benevolence. The Lord knows how to replenish the widow's vessels, which her pious hospitality has emptied. He knows how to turn water into wine. He knows how to satisfy five thousand hungry people with a few loaves. Christ, who is fed in his poor, can multiply when he takes what he increased when he gave.
–St. Leo the Great, Sermon 12, 3
IN GOD'S PRESENCE, CONSIDER . . .
When hard times come, am I still just as thankful to God?
Do I spend less on God's work, or do I make an even greater effort?
CLOSING PRAYER
Father, you formed me in the likeness of your Son. Help me serve you with every desire, and show love for all your people as you have loved me.
__________________________________________________________________________________________________________________
Remember to subscribe to my feed so you will not miss a day! This recurring feature at The Catholic Blogger is possible through the cooperation of author Mike Aquilina and publisher Saint Benedict Press. To get your own copy of this book, click below.