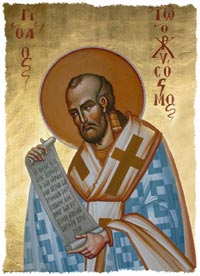 Live a life worthy of your baptism
Can people tell that you're a Christian? St. John Chrysostom says we should live lives that always remind people of what we believe—not to show off, but because our example should be leading others to Christ.
I see many living after their baptism more carelessly than the uninitiated, with nothing special to distinguish them in their way of life. Thus neither in the market nor in the church can you tell quickly who is a believer and who is an un­believer, unless you are present at the time of the sacrament, and see the one sort put out and the others staying inside.
But they ought to be distinguished not only by their place, but by their way of life. Worldly dignities are shown by the outward signs conferred; ours ought to be discernible by the soul. In other words, the believer ought to be obvious not only by the gift, but also by the new life. The believer ought to be the light and salt of the world,
But when you don't give light even to yourself or bind up your own infection, what's left by which we can know you? Because you went into the holy waters? No, this becomes a source of punishment for you. For greatness of honor is an increase of vengeance to those who do not choose to live worthy of the honor.
The believer ought to shine forth not only by what he has received from God, but also by what he has contributed himself. He should be distinguishable by everything—by his walk, by his look, by his clothes, by his voice. And I say this not because we should make a fine display, but because we should always be thinking of the benefit of those who see us.
–St. John Chrysostom, Homily 4 on Matthew, 14
IN GOD'S PRESENCE, CONSIDER . . .
Do I look like a Christian in the supermarket, or even in church?
CLOSING PRAYER
Father, Creator of the universe, lead me to perfection, and make me perfectly worthy of the grace you have given me in my baptism.
_____________________________________________________________________________________________________
Remember to subscribe to my feed so you will not miss a day! This recurring feature at The Catholic Blogger is possible through the cooperation of author Mike Aquilina and publisher Saint Benedict Press. To get your own copy of this book, click below.