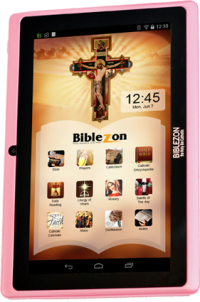 If you are a frequent reader of my work here at The Catholic Book Blogger you may have guessed that I am a bit of a tech guy. I like gadgets that make life easy. Now in saying that there are gadgets that are epic failures and more cumbersome than good. I was recently afforded the opportunity to try a new device out and I have to say this is a winner.
The Biblezon tablet for Catholics was designed to bring your faith to a more accessible level all the while eliminating the distractions. You might ask why a dedicated tablet, can't I just download the apps I want to my smartphone? Certainly, but take stock of how you use that smartphone. With the plethora of loaded apps on smartphones today do you find the urge to hop off onto another app at a whims notice? Maybe you have the iBreviary app installed and use it daily for praying the Liturgy of the Hours. Do you find your eyes straying to the notification bar at the top of your screen when an email, Facebook or Twitter notification comes in? The Biblezon tablet takes care of all that. So what is it and what is it not?
This is a conventional 7" tablet with an Android operating system. It comes loaded with the following apps: the Catechism, Catholic Encyclopedia, a Community prayer app, Confession, Daily Readings, Divine Mercy, EWTN, Guadalupe Radio Network app, iBreviary, a Liturgical Calendar, The Catholic Directory's Mass Times app, Biblezon note taking app, New American Bible, Prayer app, Rosary, Stations of the Cross, and the Pope App.
The unit does have WiFi accessibility which allows the installed apps to update as needed as well as receive push updates from the team at Biblezon. What this WiFi does not do is allow web access via the Google Play Store or Browser. These are blocked thus….no distractions. To me that seals the deal.
This device is a simple tablet that does one thing good. Deliver tools, at your fingertips, to enrich your Catholic faith while eliminating any possibility of secular distraction on the device. It is a device I now find myself using for the Liturgy of the Hours and daily readings. As Mosongo mentioned in his responses above, the great convenience is the portability of this tablet which make's it a winner in my view.
Recently, while test driving the Biblezon tablet, I had an opportunity to ask founder Mosongo Osong a few questions.
PETE: What inspired the development of the Biblezon Catholic Tablet?
MOSONGO OSONG: My faith actually inspired the development of Biblezon. I am a devout catholic and love to practice and take my faith with me everywhere I go. Carrying many books was too much and using an app was easy but too many distractions. I wanted a separate place for my Catholic faith. It was then that Biblezon was born.
PETE: This project undoubtedly took an incredible amount of work from development to securing the apps and product testing. How long did this take?
MOSONGO OSONGO: Yes. There is a lot of work involved in manufacturing and software development. It took about a year to put everything together. Also getting permissions for all the content was not an easy task but we thank God for he made everything possible.
PETE: What is your greatest wish for the Biblezon tablet?
MOSONGO OSONG: We wish that many Catholics will use the Biblezon tablet to learn, live and practice their faith daily. We also hope that this will be a great tool in the New Evangelization.
PETE: What are your future plans? What does the future hold for Biblezon?
MOSONGO OSONG: This is just our first product and we shall continue to improve Biblezon. Our plan is create a one stop shop for all things Catholic. Our next goal is to develop our own marketplace that will have books, shop, hymns and games. We also plan on having the tablet in most languages by mid next year.
_____________________________________________________________________________________________________
I received a tablet for this review from Biblezon. You can get your own Biblezon Catholic tablet by visiting there website http://www.biblezon.com/