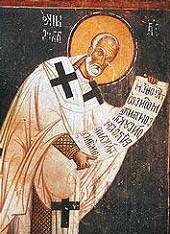 Learn to tell good jokes from bad
It's quite reasonable to joke about people when you know it will actually make them feel good, says St. Clement of Alexandria. But making fun of people is a dangerous sport, and one a Christian needs to avoid.
Older people, looking on the young as children, may (though very rarely) be playful with them, joking with them to train them in good behavior. For exam­ple, if you're with a bashful and silent young man, you might jokingly say, "This son of mine is always shooting off his mouth." A joke like that enhances the young man's modesty, by playfully pointing out his good qualities in supposedly censur­ing the bad qualities he doesn't have. This technique is instructive: it confirms what's really there by what's not there. In the same way you might say that a man well known for his water-drinking sobriety is a notorious drunkard.
But if we're around those who like to make fun of people, we must keep silent, and like full cups dispense with superfluous words. For that kind of sport is dangerous.
–St. Clement of Alexandria, Instructor, 2.7
IN GOD'S PRESENCE, CONSIDER . . .
If I make jokes, do they make people feel better or worse?
CLOSING PRAYER
Lord, help the weakness of my tongue, and let me use it to give praise to you who made heaven and earth.
_____________________________________________________________________________________________________
Remember to subscribe to my feed so you will not miss a day! This recurring feature at The Catholic Blogger is possible through the cooperation of author Mike Aquilina and publisher Saint Benedict Press. To get your own copy of this book, click below.