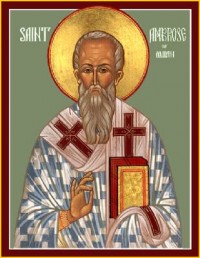 Don't return insult for insult
The devil tempts us to snap back when someone insults us, says St. Ambrose. Or, often enough, the devil doesn't have to do it, because someone else is willing to whisper in our ears. But we will always come out on top if we keep cool and silent.
So, then, you should also guard your humility. But if you are unwilling to appear too humble, you think like this, saying to yourself, "Am I supposed to let this man despise me, and say such things to my face against me, as though I could not open my mouth in front of him? Why should I not also say something to grieve him? Am I supposed to let him do me wrong, as though I were not a man, and as though I could not avenge myself ? Is he to bring charges against me as though I could not bring together worse ones against him?"
Whoever speaks like this is not gentle and humble, nor is he without tempta­tion. The tempter stirs him up, and himself puts such thoughts in his heart. Quite often, too, the evil spirit employs another person, and gets him to say such things to him; but you should set your foot firm on the rock. Even if a slave is abusing him, let the just man be silent, and if a weak man speaks insults, let him be silent, and if a poor man should make accusations, let him not answer. These are the weapons of the just man, so that he may conquer by giving way, as those skilled in throwing the javelin win by giving way, and in flight wound their pursuers with harder blows.
–St. Ambrose, On the Duties of the Clergy, 1.5
IN GOD'S PRESENCE, CONSIDER . . .
Do I listen when other people tell me what they would do if someone said that to them?
Or do I have the strength to remember what Christ would do?
CLOSING PRAYER
Father, fill me with your Spirit, and guide me to return good for any evil done to me. 
_____________________________________________________________________________________________________
Remember to subscribe to my feed so you will not miss a day! This recurring feature at The Catholic Blogger is possible through the cooperation of author Mike Aquilina and publisher Saint Benedict Press. To get your own copy of this book, click below.