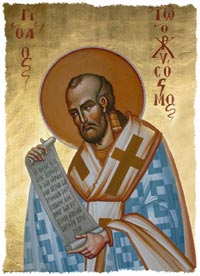 Only you can hurt your own salvation
No one can take salvation away from you, but you can reject it, says St. John Chrysostom. If you've built your house on stone, no storm can blow it down.
So there is no way anyone can injure you if you don't choose to injure yourself. But if you're not willing to be temperate and to help yourself from your own resources, then no one will ever be able to do you any good.
This is what was made obvious to us by the parable of the two men—the one who built his house on rock, and the other on sand.
So neither rain, though it may be driven furiously, nor streams smashing against it with all their strength, nor the wild winds beating against it with a mighty rush could shake the one house at all: it stayed undisturbed and unmoved, so that you would understand that no trial can disturb someone who does not betray himself.
But the other man's house was easily swept away—not because of the strength of the trials (for in that case the other would have had the same fate), but because it was built on sand, which is to say on laziness and wickedness. Even before the storm beat on it, it was ready to fall. Buildings of that sort, even if no one puts any pressure on them, fall apart by themselves, the foundation sinking and collapsing in every direction.
Just as cobwebs tear apart when no strain is put on them, but diamond is unshaken even when you hit it, so those who do not injure themselves grow stron­ger even if they take innumerable blows, but those who betray themselves—even if there is no one else to attack them—fall down by themselves, and collapse and per­ish. Even Judas perished that way: not only was he not attacked by any trial of that sort, but in fact he had the benefit of much help.
–St. John Chrysostom, No One Can Harm the Man Who Does Not Injure Himself, 12
IN GOD'S PRESENCE, CONSIDER . . .
Am I building on stone or on sand?
How would I be able to tell?
CLOSING PRAYER
Father, every power of nature obeys your will. Calm the storms that threaten me, and let me always feel the protection of your love, so that, secure in your protection, I may always serve you with a grateful heart.
_____________________________________________________________________________________________________
Remember to subscribe to my feed so you will not miss a day! This recurring feature at The Catholic Blogger is possible through the cooperation of author Mike Aquilina and publisher Saint Benedict Press. To get your own copy of this book, click below.