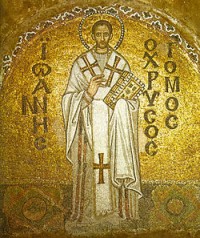 Don't let confusing scriptures discourage you
Don't let the obscurities and difficulties in Scripture keep you from reading, says St. John Chrysostom. Keep trying, and ask for help when you need it.
But (someone objects) are the parts containing the signs and wonders and histories also clear and plain to everyone?
This is a pretense, and an excuse, and a mere cloak of idleness. You do not understand the contents of the book? But how can you ever understand, while you are not even willing to look carefully?
Take the book in your hand. Read the whole history; and, retaining in your mind the easy parts, peruse frequently the doubtful and obscure parts; and if you are unable, by frequent reading, to understand what is said, go to someone wiser; betake yourself to a teacher; confer with him about the things said. Show great eagerness to learn: then, when God sees that you are using such diligence, he will not disregard your perseverance and carefulness; but if no human being can teach you what you seek to know, God himself will reveal the whole.
–St. John Chrysostom, Four Discourses, 3.3
IN GOD'S PRESENCE, CONSIDER . . .
Which parts of the Bible are most difficult for me?
Where could I go for help in understanding them better?
CLOSING PRAYER
Lord, broaden my understanding and make it clearer, so that I may understand the things your prophets have written, and send your Holy Spirit to guide me as I read.
_____________________________________________________________________________________________________
Remember to subscribe to my feed so you will not miss a day! This recurring feature at The Catholic Blogger is possible through the cooperation of author Mike Aquilina and publisher Saint Benedict Press. To get your own copy of this book, click below.