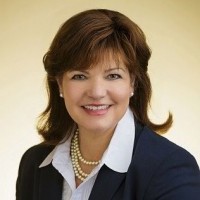 PETE: What has been your inspiration behind the new book Praying for Priests: A Mission for the New Evangelization and apostolate of prayer for clergy and vocations?
KATHLEEN BECKMAN: The Congregation for the Clergy in Rome is the inspiration behind this mission of intercessory prayer for priests and spiritual motherhood. I was first made aware of the Holy See's initiative in 2007 through Magnificat, A Ministry to Catholic Women. Since 1991, I have served in leadership of Magnificat, an international apostolate based on the Visitation scene (Luke 1:39-56) that includes the spiritual adoption of priests and seminarians as one of its objectives.
However, it was in February 2013, on retreat in Jerusalem, together with a group of priests, that my spiritual director invited me to pray about whether the Lord might be calling me to do something regarding the Holy See's program, and if so, what that might be. After the Holy Land retreat, with communal discernment, I wrote a letter of proposal to the then-Cardinal Prefect of the Congregation outlining a program to help promote their initiative.
In May 2013, I received a letter from Cardinal Mauro Piacenza in which he expressed, "This Dicastery, tasked with all which regards the growth of vocations, correct formation of clergy, and the life and ministry of priests, appreciates in a particular way the expansion of the above mentioned initiatives and encourages you to continue these developments…" The book, "Praying for Priests: A Mission for the New Evangelization" and the apostolate, Foundation of Prayer for Priests (www.foundationforpriests.org), are part of the approved proposal.
In addition to the above, my work with priests over the past 15 years in the Church's ministry of healing, deliverance and exorcism has impacted my awareness of their particular need for intercessory prayer. As the Congregation for the Clergy booklet states, "Priests, in particular, face many challenges, striving to do the will of God at every moment of their lives, yet confronted with the countless temptations of modern life. These temptations are best overcome with prayer and penance, their own, and the prayers of others on their behalf."
PETE: Your book Praying for Priests: A Mission for the New Evangelization contains two chapters focused on spiritual motherhood and spiritual maternity. This mission of prayer is certainly far from a mission for women only. How can men actively participate in this mission for their brothers in the priesthood?
KATHLEEN BECKMAN: I must credit an Official from the Congregation for the Clergy, Monsignor Richard Soseman, who, when we met in Rome in April 2014, advised me that Cardinal Piacenza was hoping for the inclusion of spiritual fatherhood for the apostolate. The apostolate website (www.foundationforpriests.org) features an entire section on the subject, and we will continue to populate the website with catechesis on this vocation for men.
The spiritual fatherhood of a Christian layman derives from his baptismal identity with Jesus Christ. St. Joseph is the icon of spiritual fatherhood for laymen because he models the masculine ideal. God the Father entrusted the life of His Son Jesus to an ordinary layman. St. Joseph was not spared from original sin, and he humbly accepted the authority the Eternal Father gave him to be the head of the Holy Family. Jesus counted on St. Joseph for fatherly love, protection, and human formation, especially during his thirty years in Nazareth.
Just as St. Joseph was a father to Jesus, laymen are called to be spiritual fathers to clergy and seminarians. The book features an entire Appendix with fresh ideas for support of seminarians and clergy that can be lived by men in all walks of life. In a culture that is losing its sense of authentic masculinity and fatherhood, emphasizing and living this facet of spirituality is greatly needed.
Of course, the ordained priesthood is the only vocation by which the man is sacramentally marked with an indelible sign that enables him to participate in the ministerial priesthood of Jesus Christ. The priest is anointed and empowered to be a spiritual father in nourishing and forming spiritual children, who are called to become saints. The priest begets spiritual children in the way that Jesus did—by evangelizing the faithful (preaching and teaching), by offering sacrifices on their behalf (the Holy Mass), and by laying down his life (dying to self in the service of others) so that his spiritual children may return safely to the Father's house. The book and FPP website include many resources for clergy also.
PETE: How does your mission of prayer fit into the New Evangelization?
KATHLEEN BECKMAN: The New Evangelization is the Holy Spirit's answer to the spiritual state of the world today. Prayer is an essential activity of the New Evangelization. Prayer is the pathway to union with God. Prayer opens the door for the Holy Spirit to descend upon us and transform our hearts and souls. Prayer prepares us for mission. As Pope Francis expresses in Evangelii Gaudium, intercessory prayer has missionary power: "When evangelizers rise from prayer, their hearts are more open; freed of self-absorption, they are desirous of doing good and sharing their lives with others." Through prayer we are transformed, and through intercessory prayer we obtain graces for our priests, our foremost partners in the New Evangelization.
It is clear that intercessory prayer for priests is at the very heart of the New Evangelization considering what Pope John Paul II wrote in Pastores Dabo Vobis, "The formation of future priests…is considered by the Church one of the most demanding and important tasks for the future of the evangelization of humanity."
The sequence of Holy See events between 1951 when Pope Pius XII wrote Evangelii Praecones (Heralds of the Gospel), and 2013 when Pope Francis authored Evangelii Gaudium (Joy of the Gospel) also helps us to understand the connection. In March 2005, On Holy Thursday, Pope John Paul II directed his last formal letter to all priests, in which he affirms: "Particularly in the context of the New Evangelization, the people have a right to turn to priests in the hope of 'seeing' Christ in them (cf. Jn 12:21). Vocations will certainly not be lacking if our manner of life is truly priestly, if we become more holy, more joyful, more impassioned in the exercise of our ministry." The special role of the laity in support of the clergy for the New Evangelization is outlined in Chapter Two of my book.
PETE: Can you tell readers about your work as co-founder and President of the Foundation of Prayer for Priests?
As mentioned in response to the first inquiry, the book is coupled with the launch of an approved apostolate, Foundation of Prayer for Priests. The mission statement reads: "Our mission is to advance the New Evangelization by catechizing and engaging the global Catholic family in a movement of prayer for the sanctification of priests and priestly vocations through the offering of Eucharistic adoration, intercessory prayer, sacrifices, and service." One person cannot do this important work so a Founding Team of 5 priests, 4 laywomen, and 1 layman formed to provide the mission's growth and catechesis on related subjects. The priest spiritual director and co-founder works for the Holy See, and we are grateful for an Advisory Team of bishops and lay leaders—all of who are dedicated to the Holy See's mission for clergy and vocations.
As President and co-founder, my role has been to pray, speak, write, travel and serve the clergy, seminarians, religious women and laity who have formed a family of prayer, a community of communities, striving to live the call to spiritual motherhood and fatherhood. We have many collaborators already and monthly hundreds of new spiritual mothers and fathers, including clergy and consecrated women, are subscribing on the website's Home Page (www.foundationforpriests.org) to become members of this spiritual apostolate.
PETE: Let's use my family as an example. What can our family of 7 with 5 children ranging from 2 to 15 do to aid in this mission?
KATHLEEN BECKMAN: When a family prays together, a spiritual intimacy is created that strengthens the bonds of all family members. Prayer is the principal way that the family becomes what it is meant to be (cf. Familiaris Consortio). The world and the Church, beginning with priests, need the first fruits of family prayer. One reason this is an urgent call for families is that they are the seedbeds of priestly vocations.
10 Ways to Foster Family Prayer, Especially for Priests & Vocations
Create a sacred space in your home that will be warm, welcoming and conducive to family prayer. Simple settings that include a beautiful crucifix, statue of Jesus or Mary or favorite saints and angels, candles, flowers, holy cards are ideal. Let this be considered holy ground where the family communes with God.

Obtain from your diocesan directory (often available online) the names of the seminarians and/or priests in your diocese and pray for one or more by name. Children may also appreciate having a picture of a few priests whom the family spiritually adopts.

If possible, gather together first thing in the morning to offer a short "morning offering" to God consisting of all your actions and prayers for the holiness of priests and for more vocations.

Attend Mass together as often as possible and offer your Holy Communion for priests who need the most spiritual assistance that day. Children are often happy to know they can be helpful to priests in this way.

Pray a rosary or a chaplet of Divine Mercy together for seminarians and priests. Remind children that Jesus is the Eternal High Priest who loves them.

Gather together to pray for one another before going to sleep each night. After your examination of conscience (a great spiritual exercise to teach children), remember to pray for a priest who may be exhausted and in need of spiritual help.

The father and the mother can bless the children before going to bed; offer their children to God; and include a prayer for a vocation to the priesthood or religious life.

Teach your family to offer up sacrifices and/or their sufferings for priests who are engaged in helping other families to carry their crosses.

Keep a family prayer journal with a list of intentions and include the seminarians and priests that you pray for by name.

Invite a priest or seminarian over to your home for a simple visit, or to share a family meal, or to watch a good spiritual movie (perhaps the life of a saint). Try to provide a brief time when the family and the priest can offer a prayer together.
PETE: Time for my signature-ending question. This is a blog about books. What is currently on your bookshelf to read?
KATHLEEN BECKMAN: My bookshelves are overloaded with Catholic books that I intend to read since I often interview authors on my weekly Radio Maria program. Foremost include: 1) "Spiritual Handbook for Catholic Evangelists" by Dom Jean-Baptiste Chautard, Sophia Press, 2) "When Divorce is Not an Option" by Dr. Gregory K. Popcak, Sophia Press, 3) Discernment of Spirits by Timothy M. Gallagher, OMV, Crossroad Publishing.
Reading good spiritual books supports an intentional prayer life. Thank you, Pete, for your important service to the Church.
_____________________________________________________________________________________________________