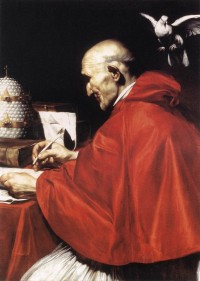 Sacrifice yourself along with the Eucharist
St. Gregory the Great tells us that it's not enough just to be there when the sacrifice is made: we should be sacrificing ourselves, too, imitating the sacrifice on the altar.
We should offer to God the daily sacrifice of tears, and the daily sacrifice of his body and blood. For this sacrifice, which in mystery renews to us the death of the Son of God, especially saves our souls from everlasting damnation. Christ is now risen from death, and does not die anymore, nor shall death prevail any further against him: yet living in himself immortally, and without all corruption, he is again sacrificed for us in this mystery of the holy oblation—for there his body is received, there his flesh is distributed for the salvation of the people; there his blood is not now shed by the hands of infidels, but poured into the mouths of the faithful. So let us meditate on what kind of sacrifice this is, ordained for us, which for our absolution always represents the Passion of the only Son of God.
But it is essential that, when we do these things, we should also, by contrition of heart, sacrifice ourselves unto almighty God. When we celebrate the mystery of our Lord's passion, we ought to imitate what we do then: for it will truly be a sacrifice for us to God if we offer ourselves also to him in sacrifice. We must also be careful, after we have given some time to prayer, to keep our mind fixed on God (as much as we can by his grace) so that no vain thoughts make us to fall into dis­solution, and no foolish mirth enters into our heart. Otherwise the soul, by reason of such transitory thoughts, might lose all it gained by former contrition.
–St. Gregory the Great, Dialogues, 4.58-59
IN GOD'S PRESENCE, CONSIDER . . .
Do I make a real effort to sacrifice my "vain thoughts" before I approach the Eucharist?
CLOSING PRAYER
Lord, stoop to my weakness, and pity me according to your mercy; be pleased that my sacrifices may be acceptable to you.
_____________________________________________________________________________________________________
Remember to subscribe to my feed so you will not miss a day! This recurring feature at The Catholic Blogger is possible through the cooperation of author Mike Aquilina and publisher Saint Benedict Press. To get your own copy of this book, click below.