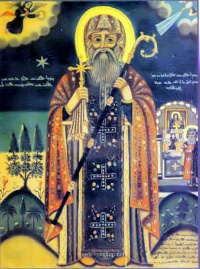 Stay for the whole Mass
In the time of Jacob of Serugh, it seems that many people were rushing out of Mass before it was over. (Sound familiar?) Jacob reminds them of what they're missing.
Do not be impatient to be gone from the supper that the bride of the whole world has made for us to delight in. You are a child of the household, not a stranger who ought to depart.
The Bridegroom is coming down to see the bride betrothed to Him; stay, O soul, in the midst of the bride-chamber, that he may see you here. Do not rush out from the chamber of the Bridegroom, the King, who is coming down to see you, bearing riches from the house of his Father.
Everyone who is in the house rises up to cry "Our Father," and the new sons sanctify and bless him. And by his brooding he mingles them in a holy way, and they become one with him, as it is written, mystically.
–Jacob of Serugh, On the Reception of the Holy Mysteries, 655-657
IN GOD'S PRESENCE, CONSIDER . . .
Am I impatient to be out the door while I'm at Mass?
Would it help to pay more attention to the meaning of each individual part of the liturgy?
CLOSING PRAYER
Blessed be God, who blesses and sanctifies us all at the presentation of the divine and pure mysteries, and gives rest to the blessed souls among the holy and just, now and to all eternity.
_____________________________________________________________________________________________________
Remember to subscribe to my feed so you will not miss a day! This recurring feature at The Catholic Blogger is possible through the cooperation of author Mike Aquilina and publisher Saint Benedict Press. To get your own copy of this book, click below.