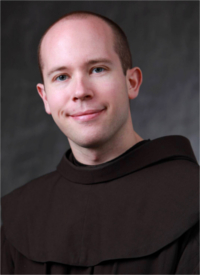 PETE: As a Franciscan friar, a number of your books have an obvious Franciscan theme running through them. When you approached this book on Merton, were you always planning on highlighting the influence of Francis of Assisi on Thomas Merton?
DANIEL P. HORAN: Yes, it was my intention to do precisely that – to highlight the Franciscan themes that ground and inform so much of Merton's thought, writing, and personal life. I had the idea to write this book many years ago, but at the time none of my publishers were interested. I knew that there were so many ways the Franciscan theological and spiritual tradition shaped Merton's thinking, but very few people knew about it and talked about it. So, a few years later when an editor at Ave Maria Press invited me to write a book for them, I knew it was the right time to do this. And perhaps that it came later than I had originally planned was the Spirit's providential way of aligning its release near Thomas Merton's 100th Birthday this year.
PETE: Thomas Merton is well loved and highly read. He is one of the most influential spiritual writers if not THE most influential in the 20th century. Why do you think his influence still looms large today?
DANIEL P. HORAN: I think one of the major reasons he is so influential, even nearly 50 years after his death, is that he was unabashedly human in his writing. He didn't pretend to be some perfect, holy person in the way that most people – especially those in his day – view men and women in religious life. He embraced his own struggles, the challenges of prayer and contemplation, the temptations of pride and self-interest, the tension between the virtue of humility and the longing for success. His journey of religious life was wonderfully human, just like yours and mine, and because of that I believe people can easily relate to his experience and appreciate his wisdom.
PETE: What is it you want people to take away from this book? What do you want them to learn about Thomas Merton?
DANIEL P. HORAN: Perhaps there are two things (to keep it short) that I'd want people to take away from this book. The first is a renewed interest in reading Merton's own writings. I hope my book inspires others to return to Merton's texts, re-read them if you have before or pick them up for the first time if his work is new to you.  The second is that Merton was an incredibly complex and brilliant thinker who was informed my so many diverse traditions and figures. One of the most influential sources for his own spiritual and theological writing was the Franciscan tradition. Almost every one of his major contributions to modern spirituality bears the imprint of some Franciscan influence, it's exciting and illuminating to follow that line of thinking.
PETE: For those who have not read any of Thomas Merton's works where do you recommend they start?
DANIEL P. HORAN: This is a great question and I often give three different answers depending on who is asking. The typical suggestion Merton fans give is to read The Seven Storey Mountain, Merton's 1948 spiritual autobiography. That's definitely a fine place to begin, but I have found that people today – especially younger people – have a hard time getting excited about the book's length and style. If someone is looking for an excellent book on prayer, I highly recommend New Seeds of Contemplation, it's wonderful! If someone is looking for more of Merton's later reflections on social justice and living the Christian faith in the world, I recommend starting with Conjectures of a Guilty Bystander. In truth, you really can't go wrong picking up anything of his that you'd find on the local bookstore shelf!
PETE: How has Thomas Merton influenced your own life?
DANIEL P. HORAN: Wow, I don't know if there's enough time or space to give that great question its full due. In short: in so many ways! I think that I find myself relating to him differently, but consistently, throughout my journey of life and faith. His struggles with prayer and religious life, his internal drive to write and teach, his wide-ranging interests in so many aspects of the Christian tradition, other faiths, and various other subjects reflect a little of my own experience. His commitment to the Gospel and taking its challenge seriously at each moment and stage of his journey of life, lived at times imperfectly like all of us, is inspiring to me. His example says to me, "hey, you don't have to be perfect to serve God and your sisters and brothers." In fact, nobody's perfect, and that's ok. God in Christ asks us to, "Come, and follow" Him. When we try to plan and control that journey, we're bound to miss the point. Merton's life and work helps me to see what it's like to embrace an openness to the Spirit's work in the world and my life.
PETE: I haven't asked you my signature question lately. This is a blog about books. What is currently on your bookshelf to read?
DANIEL P. HORAN: Well, I'm afraid I have a very boring answer this time around. At the moment, I'm preparing to take my PhD comprehensive exams, so almost everything I'm reading at the moment is related to that. It includes such a variety of books from the Early Christians writers like Irenaeus of Lyon and Athansius, to medieval authors like Hugh of St. Victor, Bonaventure, and Thomas Aquinas, to modern theologians like Karl Rahner, Elizabeth Johnson, and Jürgen Moltmann, just to name a few. I look forward to just a few weeks from now when I may finally be able to pick up a non-comps book for the first time in a long time.
_____________________________________________________________________________________________________

Other Books by Daniel P. Horan:
The Last Words of Jesus: A Meditation on Love and Suffering
Dating God: Live and Love in the Way of St. Francis
Franciscan Spirituality for the 21st Century: Selected Reflections from the Dating God Blog and Other Essays: Volume One