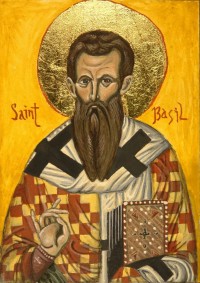 Find God through continence
Writing to a monk, St. Basil praises continence. It isn't just the celibacy prac­ticed by monks, he says: continence is a way of life for everyone, and it leads us to God.
The fruit of continence is the companionship of God. For not to be cor­rupted is to have part with God; just as to be corrupted is the companionship of the world.
Continence is denial of the body, and confession to God. It withdraws from any­thing mortal, like a body which has the Spirit of God. It is without rivalry and envy, and causes us to be united to God. He who loves a body envies another. Whoever has not allowed the disease of corruption into his heart is for the future strong enough to endure any labor, and though he may die in the body, he lives in incorruption.
In fact, if I understand the thing correctly, God seems to me to be continence, because he desires nothing, but has all things in himself. He reaches after nothing, and does not see or hear with eyes or ears; lacking nothing, he is in all respects complete and full.
Concupiscence is a disease of the soul; but continence is its health. And conti­nence must not be thought of only in one sort, as, for instance, in matters of sensual love. It must be thought of in everything the soul lusts after in an evil manner, not being content with what is needful for it. Envy is caused for the sake of gold, and in­numerable wrongs for the sake of other lusts. Not to be drunk is continence. Not to overeat is continence. To subdue the body is continence, and to keep evil thoughts in subjection, whenever the soul is disturbed by any false or bad imagination, and the heart is distracted by vain cares. Continence makes us free, being at once a medicine and a power—for it does not teach temperance; it gives it. Continence is a grace of God.
–St. Basil, Letter 366
IN GOD'S PRESENCE, CONSIDER . . .
Where do I need to practice more continence?
Where am I most tempted to take more than I need?
CLOSING PRAYER
Lord, help me keep my purity intact, so that, when the Bridegroom comes, I may meet him with a lighted lamp in my hand.
_____________________________________________________________________________________________________
Remember to subscribe to my feed so you will not miss a day! This recurring feature at The Catholic Blogger is possible through the cooperation of author Mike Aquilina and publisher Saint Benedict Press. To get your own copy of this book, click below.