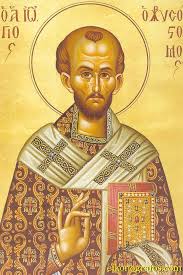 Beware the temptations of power
Whenever we have power over people, says St. John Chrysostom, we're tempted to use that power for the basest ends. Better to have no wealth at all than to use our wealth for revenge.
But riches, someone may say, bring honor to those who possess them, and give them the power to take vengeance on their enemies easily.
Tell me, is this really a reason why riches seem desirable to you and worth striving for—that they nourish the most dangerous passion in our nature? That they lead anger on into action, and swell the empty bubbles of ambition, and goad and urge us into arrogance?
No, these are exactly the reasons why we ought to turn our backs on riches: because they let dangerous wild beasts into our hearts, depriving us of the real honor we might receive from everyone. They bring deluded men another honor that is the opposite of real honor, only painted over with its colors, and persuade them to imagine that it is the same, though really it only seems the same to the eye.
–St. John Chrysostom, No One Can Harm the Man Who Does Not Injure Himself, 9
IN GOD'S PRESENCE, CONSIDER . . .
When I have power over people—even if they're just clerks or waiters—how do I use that power?
CLOSING PRAYER
Lord, fill my heart with your Spirit of love, so that I may love you in all my brothers and sisters.
_____________________________________________________________________________________________________
Remember to subscribe to my feed so you will not miss a day! This recurring feature at The Catholic Blogger is possible through the cooperation of author Mike Aquilina and publisher Saint Benedict Press. To get your own copy of this book, click below.