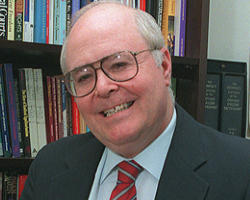 PETE: You loaded a lot of stats into your book The Catholic Advantage: Why Health, Happiness and Heaven Await the Faithful. How much research went into this book and how long did it take from concept to finished draft?
BILL DONOHUE: I've been collecting data and health, happiness, and religion for years, but I went into high gear for about a year-and-a-half doing the research and another year-and-a-half of writing. Because of all the demands of my job, which consists of a lot of writing, TV, radio, and administrative work, I have little time during the week to work on a book, save for reading on the train to and from work. But I work every Sunday afternoon and use almost all my three weeks of vacation each year to work on a book. I work at an intense pace—otherwise it would never get done.
I use a lot of stats because a) I am a sociologist and b) I want to persuade by citing the evidence.
PETE: This book covers an interesting topic. How ones beliefs impact their lives. What was the driving force behind you writing this book?
BILL DONOHUE: I have long been convinced that the best recipe for the good society is found in the teachings of Catholicism. I spend my day defending Catholicism from bigots and those who are hyper-critical of the Church, so this book is an opportunity to show a more positive, non-reactive, approach. I am convinced that the Three B's—beliefs, bonds, and boundaries—is the surest path to achieving the Three H's of health, happiness, and heaven.
I also wanted to show how much better people of faith (practicing lay persons, priests, cloistered nuns, and saints) fare when compared to their secular counterparts, namely celebrities and intellectuals. The former have a huge advantage over the latter in securing the Three H's.
PETE: Why this book now?
BILL DONOHUE: Everyone wants the Three H's but what is not well understood is how best to achieve them. I tried to provide an answer. I also wanted to tap into the interest people have in self-help books without writing one, per se.
PETE: Who is your target audience for this book? Who do you feel will gain the most from it?
BILL DONOHUE: The book has a very upbeat message for practicing Catholics, so those who are looking for good news about their religion—a positive statement that touches them in a very personal way—should be drawn to the book.
Having spent much of my life with intellectuals, I also wanted to challenge them. Their smugness, condescending attitudes, arrogance, and hypocrisy are astounding. So I hope to engage them. They are, for the most, unhealthy, unhappy, and selfish—not exactly the role model they've been cracked up to be.
PETE: Most people may know that you are President of The Catholic League. Can you tell us about the Catholic League and your own role in it?
BILL DONOHUE: I spend my time debunking lies and myths told about the Catholic Church. They never end. Some of the attacks—I do not mean criticism!–are so vile it is amazing. My role is to set the record straight. I view myself, and my staff, as Marines who clear the forest so that the bishops' can go forward. We are not imposing anything—we are here to propose. But to do that means the Catholic voice must get a respectful hearing. That's our job.
PETE: Time for my signature ending question. This is a blog about books. What books are currently on your bookshelf to read?
BILL DONOHUE: I have been reading books about Father Junipero Serra, such as "Converting California" by James Sandos. I am doing research on this Franciscan priest, who pioneered the missions in California, in anticipation of the attacks on Pope Francis when he proclaims Serra a saint in September (this will happen in the U.S.) Lots of lies have been told about the work of the missionaries, so this is another Catholic League moment.
I am also reading "The Teaching of Modern Roman Catholicism," an edited volume by John Witte and Frank Alexander, and "Reclaiming Catholic Social Teaching" by Anthony Esolen. These books, and others, are providing ideas about another book that I may write.
____________________________________________________________________________________________________

Other books by this author:
Why Catholicism Matters: How Catholic Virtues Can Reshape Society in the Twenty-First Century