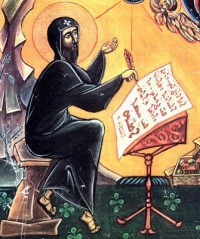 Feed the poor and you feed Christ
St. Ephrem the Syrian tells us that the poor are Christ visiting us in disguise. When the poor bless us for our kindness, Christ himself is blessing us.
Love poverty. Desire neediness. If you have both for your portion, you have an inheritance on high.
Do not despise the voice of the poor man, and do not give him reason to curse you. For if the man whose palate is bitter curses you, the Lord will hear his petitions. If his clothes are filthy, wash them in water, which costs you nothing.
Has a poor man entered your house? God has entered your house. God dwells in your home. The man whom you have thus delivered from his troubles will deliver you from your troubles.
Have you washed the feet of the stranger? You have washed away your sins.
Have you prepared a table before him? Look! God is eating there, and Christ is drinking, and the Holy Spirit resting.
Is the poor man satisfied at your table and refreshed? You have satisfied Christ your Lord. He is ready to reward you. In the presence of angels and men he will proclaim that you fed his hunger. He will give thanks to you that you gave him drink and quenched his thirst.
–St. Ephrem the Syrian, Homily on Admonition and Repentance, 12
IN GOD'S PRESENCE, CONSIDER . . .
When I walk past a homeless beggar, do I avert my eyes and walk faster?
Will my behavior change when I remember that I'm walking past Christ with his hand outstretched?
CLOSING PRAYER
Lord, you provide enough for all your people. Give me a love that shows itself in deeds for all my brothers and sisters, so that I will do all I can to help the poor and hungry.
_____________________________________________________________________________________________________
Remember to subscribe to my feed so you will not miss a day! This recurring feature at The Catholic Blogger is possible through the cooperation of author Mike Aquilina and publisher Saint Benedict Press. To get your own copy of this book, click below.