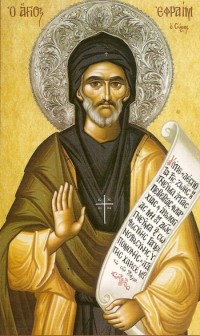 Judge yourself, not your neighbors
In poetic rhythms that recall the ancient Hebrew Psalms, St. Ephrem the Syr­ian warns us not to look for faults in our neighbors. If we're so keen on righ­teousness, we should be judging ourselves.
Do not look for the faults of your friend. Do not repeat the shortcomings of your neighbors in your talk. You are not the judge of creation. You do not have dominion over the earth. If you love righteousness, admonish your soul and your­self. Be the judge of your own sins, and chastise your own transgressions. Do not inquire maliciously into what others do—for if you do, you will not lack troubles. Do not trust what your ear hears, for there are many deceivers. Do not believe empty hearsay, for false rumors are common.
–St. Ephrem the Syrian, Homily on Admonition and Repentance, 12
IN GOD'S PRESENCE, CONSIDER . . .
Do I judge others more harshly than I judge myself ?
Have I made a serious effort to give my neighbors the benefit of the doubt?
CLOSING PRAYER
O God, you desire truth in my inward being; therefore teach me wisdom in my secret heart. Purge me with hyssop, and I shall be clean; wash me, and I shall be whiter than snow (see Psalm 51).
_____________________________________________________________________________________________________
Remember to subscribe to my feed so you will not miss a day! This recurring feature at The Catholic Blogger is possible through the cooperation of author Mike Aquilina and publisher Saint Benedict Press. To get your own copy of this book, click below.