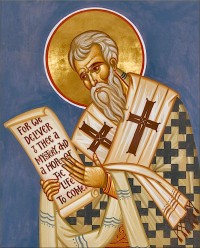 Sincere repentance saves the wickedest
No one was more wicked than Nebuchadnezzar, says St. Cyril of Jerusalem. Yet even he was forgiven when he sincerely repented. God may send us hard times to remind us that we need to repent, but we can be confident that sincere repentance brigs salvation and an eternal place in the Kingdom.
What do you think of Nebuchadnezzar? What great punishments he deserved for murdering kings, setting fire to the Temple, taking the people cap­tive, placing the sacred vessels in the house of idols! Didn't he deserve ten thou­sand deaths?
You've seen how evil he was—now see God's mercy. He was turned into a wild beast; he lived in the desert, he was scourged, so that he might be saved.
"At the end of the days," he says, "I, Nebuchadnezzar, lifted my eyes to heaven, and I blessed the Most High, and praised and honored him who lives for ever" (Daniel 4:34). So when he recognized the Most High, and sent up these words of gratitude to God, and repented of what he had done, and recognized his own weakness—then God gave him back the honor of the Kingdom.
If God gave him pardon and his Kingdom back when Nebuchadnezzar confessed his sins, then when you repent, won't God give you remission of sins and the Kingdom of heaven, if you lead a worthy life?
No one should despair of his own salvation. Peter, the chief and foremost of the Apostles, denied the Lord three times to a little serving girl. But he repent­ed and wept bitterly. No, weeping shows repentance of the heart; therefore, he not only was forgiven for his denial, but also did not forfeit his apostolic dignity.
–St. Cyril of Jerusalem, Catechetical Lecture 2, 17-19
IN GOD'S PRESENCE, CONSIDER . . .
Do I trust in God's promise to grant me the Kingdom?
Is God waiting for me to repent some secret sin?
CLOSING PRAYER
Lord, do not leave me in the midst of my sins. I desire to wash my hands and become like the innocent; have pity on my weakness, and mercifully bring me back to the right path.
_____________________________________________________________________________________________________

Remember to subscribe to my feed so you will not miss a day! This recurring feature at The Catholic Blogger is possible through the cooperation of author Mike Aquilina and publisher Saint Benedict Press. To get your own copy of this book, click below.