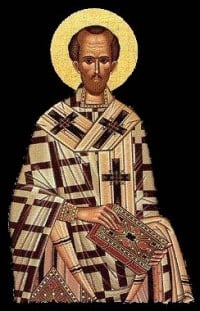 Five ways to repent
There are many ways to repent, says St. John Chrysostom, and they all lead to heaven. Not one of them is too hard for any of us.
Would you like me to talk about the ways of repentance? There are many ways, and various, and diverse—and they all lead to heaven.
The first way of repentance is condemning your sins. "Declare your sins, that you may be justified" (Isaiah 42:26, Septuagint). So condemn yourself for your sins. That's a good enough self-defense for the Master. For whoever condemns his sins will not fall into them again so soon. Wake up your conscience, that interior prosecu­tor, so that you may have no prosecutor at the judgment-seat of the Lord. This is one way of repentance—the best way.
There is another way as good as that one, which is not to hold a grudge against your enemies: to overcome anger and forgive the sins of your fellow servants. Then the sins we have committed against the Master will be forgiven us.
Would you like to learn a third way of repentance? Fervent and tireless prayer—and to do it from the bottom of your heart. Haven't you seen how the widow persuaded the shameless judge? But you have a gentle Master.
If you want a fourth way, I'll say almsgiving. For that has a great and unspeak­able power. As Daniel said to Nebuchadnezzar when he had fallen into every sacri­lege, "O king, let my counsel be acceptable to you; break off your sins by practicing righteousness, and your iniquities by showing mercy to the oppressed" (Daniel 4:27).
Modesty and humility, no less than the words you speak, empty out your sins. The tax collector (Luke 18:13) is proof: he brought forward his humility, and set aside the heavy burden of his sins. Now, you see, I've shown you five ways to repent. Don't be lazy, but live out all five every day.
–St. John Chrysostom, Homily 2 on the Power of Demons, 6
IN GOD'S PRESENCE, CONSIDER . . .
When I look at this list of five ways of repentance, can I honestly say I'm working on all of them?
CLOSING PRAYER
Lord, remember your servant, whom you redeemed with your blood. I repent my sins, and I long to put right what I have done wrong. Take away all my offenses, and purify me in body and soul.
_____________________________________________________________________________________________________
Remember to subscribe to my feed so you will not miss a day! This recurring feature at The Catholic Blogger is possible through the cooperation of author Mike Aquilina and publisher Saint Benedict Press. To get your own copy of this book, click below.