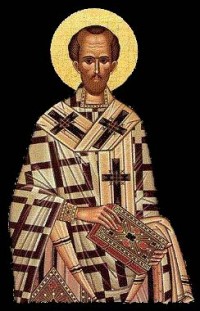 Bear fruit that befits repentance
It's good to stop sinning—but it's not enough, says St. John Chrysostom. We also need to bend over backwards to put things right. However we sinned, we should be doing the opposite to make up for it.
By repentance I mean not just forsaking our former evil deeds, but also doing good deeds greater than the evil ones. "Bear fruit that befits repentance," says John the Baptist (Matthew 3:8).
But how shall we bear that fruit? By doing the opposite things.
For example, have you seized others' property by violence? From now on, give away your own property.
Have you been guilty of fornication for a long time? Abstain even from your wife for certain appointed days, and exercise continence.
Have you insulted and struck people passing by? From now on, bless those who insult you, and do good to those who strike you.
It's not enough for our health just to pull out the arrow; we must apply rem­edies to the wound.
Have you lived in self-indulgence, and been drunk in the past? Fast, and be careful to drink water, to destroy the ill that has grown up inside you.
Have you looked with unchaste eyes on beauty that belonged to another? From now on don't even look at a woman at all, to keep yourself safer.
–St. John Chrysostom, Homily 10 on Matthew, 7
IN GOD'S PRESENCE, CONSIDER . . .
What could I be doing now to set right my past sins?
CLOSING PRAYER
Father, send me your grace, and let me bear fruit for the remission of my sins, by the grace and mercy of your only-begotten Son.
_____________________________________________________________________________________________________
Remember to subscribe to my feed so you will not miss a day! This recurring feature at The Catholic Blogger is possible through the cooperation of author Mike Aquilina and publisher Saint Benedict Press. To get your own copy of this book, click below.