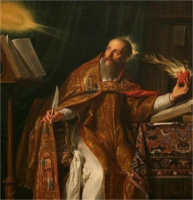 Learn to forgive
St. Augustine reminds us that if we are so hard-hearted that we cannot forgive even someone who sincerely repents, we can't have any expectation that our own sins will be forgiven.
If anyone seeks forgiveness from someone he has sinned against— prompted by his sin to ask for it—that one should not be thought of as an enemy anymore, and now it should not be as hard to love him as it was when he was really hostile.
Now, anyone who does not forgive from the heart someone who asks for­giveness and repents his sins certainly cannot imagine that his own sins are for­given by the Lord. The Truth cannot lie, and is there anyone who has heard or read the Gospel and does not remember who said, "I am the Truth"? Of course it was the One who, when he taught us his prayer, strongly emphasized one sen­tence he put in it: "For if you forgive men their trespasses, your heavenly Father also will forgive you; but if you do not forgive men their trespasses, neither will your Father forgive your trespasses" (Matthew 6:14-15).
Anyone who is not awakened by such great thundering is not asleep but dead. And yet a saying like this can even awaken the dead.
–St. Augustine, Enchiridion, 19
IN GOD'S PRESENCE, CONSIDER . . .
Am I holding a grudge right now against someone I know?
CLOSING PRAYER
Lord, teach me to forgive all who have sinned against me, as you grant merciful pardon to all who confess their sins to you.
____________________________________________________________________________________________________
Remember to subscribe to my feed so you will not miss a day! This recurring feature at The Catholic Blogger is possible through the cooperation of author Mike Aquilina and publisher Saint Benedict Press. To get your own copy of this book, click below.