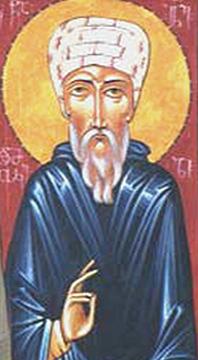 Be humble from the start
"Everyone who glories shall be humbled," says Aphrahat—and then he gives a very persuasive list of famous boasters who were indeed humbled by God.
Everyone who glories shall be humbled.
Cain gloried over Abel his brother and slew him. And he was cursed and be­came a fugitive and a vagabond in the earth. Again the Sodomites gloried over Lot, and there fell upon them fire from heaven and burned them up and their city was overthrown upon them. And Esau gloried over Jacob and persecuted him, and Ja­cob received the birthright and blessings of Esau. And the children of Jacob gloried over Joseph, and (afterwards) fell down and worshiped him in Egypt.
Pharaoh gloried over Moses and over his people; and Pharaoh and his host were drowned in the sea. And Dathan and Abiram gloried over Moses, and they went down alive to Sheol. Goliath threatened David, and he fell before him and was crushed. And again Saul persecuted David, and he fell by the sword of the Philis­tines. And Absalom exalted himself against him, and Joab slew him in the battle.
And Sennacherib blasphemed against Hezekiah and his God, and his host be­came dead carcasses when one of the Watchers went forth and slew in the camp one hundred and eighty-five thousand. Ahab exalted himself over Micah, and he went up and fell in Ramoth Gilead. Jezebel gloried over Elijah, and the dogs devoured her in the portion of Jezreel. Haman gloried over Mordecai, and his iniquity turned back upon his own head.
The Babylonians gloried over Daniel and cast him into the den of lions, and Daniel came up victorious, and they were cast instead of him into the den. Again the Babylonians gloried and accused Hananiah and his companions, and they were cast into the furnace of fire; and they came up victorious and the flame devoured the accusers.
–Aphrahat, Demonstration on Wars, 3
IN GOD'S PRESENCE, CONSIDER . . .
Do I tend to boast or value myself too highly?
CLOSING PRAYER
Father, keep your humble and unworthy servant in your mind at all times, and blot out my sins and iniquities. 
_____________________________________________________________________________________________________
Remember to subscribe to my feed so you will not miss a day! This recurring feature at The Catholic Blogger is possible through the cooperation of author Mike Aquilina and publisher Saint Benedict Press. To get your own copy of this book, click below.