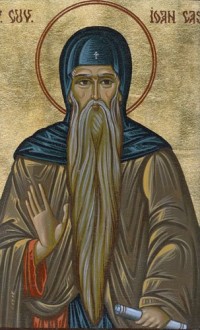 Gluttony brings you down to earth
The abbot Serapion tells St. John Cassian that we can see what gluttony is like by watching the flight of the beautiful and noble eagle.
We can make an admirable illustration of the passion of gluttony—with which a monk, however spiritual and excellent, is sure to be hampered—if we compare it to the eagle.
For the eagle soars above the highest clouds in its flight high in the sky, and withdraws itself from the eyes of all mortals and from the face of the whole earth. Yet it is compelled by the needs of the belly to drop down and descend to the earth and feed on carrion and dead bodies.
And this clearly shows that the spirit of gluttony cannot be altogether exter­minated like all other faults, or be entirely destroyed like them, but that we can only hold down and check by the power of the mind all incentives to it, and all superfluous appetites.
–St. John Cassian, Conferences, 5.20
IN GOD'S PRESENCE, CONSIDER . . .
Does food get me into trouble—either by my eating too much of it or my being too picky about it?
CLOSING PRAYER
Lord, help me resist temptation through works of love and repentance, and let my sacrifice cleanse me from sin and renew my spirit.
_____________________________________________________________________________________________________

Remember to subscribe to my feed so you will not miss a day! This recurring feature at The Catholic Blogger is possible through the cooperation of author Mike Aquilina and
publisher Saint Benedict Press
. To get your own copy of this book, click below.