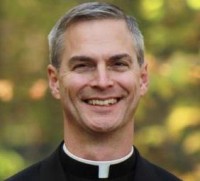 PETE: In A Guide to Christian Meditation you focus on a fundamental basic of faith and that is prayer. Why is prayer so important for the practicing Catholic?
FATHER JOHN BARTUNEK: To put it simply, a healthy prayer life assures ongoing spiritual growth.  Spiritual growth depends primarily on a real, personal, faith-based relationship with God.  That relationship is prayer.  Don't just take my word for it, take Pope Benedict XVI's: "What matters most is that you develop your personal relationship with God.  That relationship is expressed in prayer" (Yonkers, April 2008).
I should add that this conception of prayer is uniquely Christian.  Only in Christ has God become man, and so only in Christ are we able to have such a personal, real, and intimate relationship with God.  Prayer in other religious traditions is mostly about doing homage to the divinity (which Christian prayer also does, of course), but lacks a sense of being to grow in friendship with God.  And yet, that friendship is what we were created for; it is where we find the fulfillment we yearn for.  The only place to find it, in fact.  Prayer is the very path of growth in that relationship.
PETE: For those who have not read this book yet what tips can you give for those unsure of how to begin a regular prayer habit?
FATHER JOHN BARTUNEK: I recommend the three D's: Decide, Divide, and Develop.  The first step is to make a firm – I mean VERY firm – decision that a growing prayer life is going to be my number one priority from now on.  That may seem unrealistic.  But it isn't.  We were made for lasting fulfillment and meaning (aka. Happiness).  That can only be found in a living and growing relationship with God.  Prayer is the primary expression and exercise of that relationship.  Getting some spiritual direction, going on a spiritual retreat, or making a pilgrimage are excellent ways to dig down deep into the soul and plant this decision right in the bedrock of who we are.
That decision moves us logically to the next question: Okay, how do I follow through on that?  Here is where the second D, divide, comes in.  Divide your time.  Divide your schedule.  Carve out some God time every day.  If you have never done this, start with 15 minutes at the most flexible time of time.  Get a journal, a Bible, and a good spiritual book.  Start your 15 minutes by writing down some things you are grateful for – an thank-you note to God.  The more specific the better.  Then ask God to bless this time that you will spend with him (you can do it in your own words, or with the sign of the cross, or an Our Father, or your favorite prayer…).  Then open the Bible and/or the spiritual book and read a section, gently, slowly, looking for something that strikes you, that resonates.  When you find that, stay with it, mull it over, absorb it, let it nourish your soul.  Then go back and read some more… When a few minutes are left, write down the things you want to ask God for – maybe blessings for loved ones, a specific need you have, maybe something that flows out of what you were reading… Finish with a firm resolution to seek to follow Christ between now and your next God time.  It's as simple as that.  Having a daily God-time is what you need to give space for God's grace to work more and more in your life.
Finally, Develop.  Look for opportunities to learn more about prayer.  Our Catholic tradition is the richest of all.  Listen to recorded talks on prayer.  Read books on prayer.  Go to hear speakers on prayer.  Go on an annual retreat.  Speak with a spiritual director… If you don't think you have time for this, you are wrong.  So many resources are available now, on so many platforms!  Take for example my own online Spiritual Retreat Guides and do-it-yourself Retreat Guide DVDs (like Unleashing the Power of Pentecost, and A Cure for Discouragement).  You don't have to become an expert overnight.  You just have to keep taking new steps, even little ones, to discover some of the many, many jewels in the vast treasure house of our Church's tradition of prayer.
Decide, Divide, Develop – that's how I recommend getting started on a path of ongoing growth in prayer.
PETE:  Your book The Better Part is one I discovered about a year ago. It has become a staple of my own meditation life and certainly of others. You have 300 plus meditations in this fantastic book…quite an under taking. How long did it take to compile this book?
FATHER JOHN BARTUNEK: It depends on what you mean by compile.  From when I sit down to write it to when I finished it was about five months.  I wrote full time, about seven hours a day.  But I wrote it after I had been ordained for a couple of years already.  I was in seminary training in my religious order for ten years, then exercised my priesthood for four, and then I wrote that book.  The experience was remarkable.  It felt like God was giving me the chance to put on paper everything that he had shown me over those fourteen-plus years of discernment, formation, and ministry.  I was simply sharing with others everything that had gone into my falling in love with Christ and his Church, and my getting to him and the wisdom of the Gospels.
PETE: We often hear from the clergy what we should be doing for own prayer lives. What does your prayer life as a priest consist of?
FATHER JOHN BARTUNEK: In the first place, every priest is required to pray the Liturgy of the Hours.  This is an ancient prayer that weaves together psalms, Scripture passages, spiritual wisdom through the ages, and liturgical prayers.  It is divided into different "hours" that we are required to pray at different times of the day.  In this way, we keep our own hearts and minds constantly immersed in God's Word.  Altogether, this prayer (also known as the breviary or the Divine Office) will take anywhere between 45 minutes to an hour every day.
Every priest is also encouraged to engage in personal prayer.  For me, this consists of an hour of mental prayer (Christian meditation and/or contemplation) each morning, daily Mass, a daily Rosary, two examinations of conscience, a little bit of spiritual reading, and daily adoration of the Eucharist for about half an hour (unless I am traveling and can't get to adoration).  These prayer commitments are shared by all members of my religious order.  I also like to prayer the Divine Mercy Chaplet.
Priests are also required to make an annual retreat.  For me, this consists of an eight-day silent retreat following the Spiritual Exercises of St. Ignatius of Loyola.
Priests are encouraged to go on retreats as well.  I usually have at least one half-day retreat each month.
Those are my basic prayer activities.  The whole idea behind these specific times of prayer is to cultivate such a dynamic relationship with God that we gradually begin to live every activity of the day with a more prayerful spirit, in God's presence and more and more aware of that presence.  In that way, as a Christian grows, prayer becomes more and more natural, kind of seamlessly united to everything we do.
PETE: Will you be working on any other books on prayer or are their other projects you will be focusing on?
FATHER JOHN BARTUNEK: Yes, I am hoping to publish a kind of sequel to The Better Part.  It will contain meditations on the Acts of the Apostles.  I am also hoping to publish soon a sequel to Seeking First the Kingdom: 30 Meditations on How to Love God with All Your Heart, Soul, Mind, and Strength.  The sequel will be another 30 meditation book, but it will focus on the other great commandment, How to Love Your Neighbor as Yourself.
PETE: It has been a while since I asked you this question. This is a blog about books. What books are currently on your bookshelf to read?
FATHER JOHN BARTUNEK: I have a bunch of books on Catholic social teaching that I working through (it's one of the areas of theology that I teach), including Reclaiming Catholic Social Teaching by Anthony Esolen.  In the spiritual arena, I am about to dive into Fr Donald Haggerty's Contemplative Provocations and Iain Matthews' The Impact of God.  In the history category, I am still working through the ten-volume Church history edited by Hubert Jedin.  And for literary enrichment, I am just getting into William Blatty's Legion, a novel that is a kind of sequel to his amazing book, The Exorcist.
____________________________________________________________________________________________________

Other books by Father John Bartunek
Seeking First the Kingdom: 30 Meditations on How to Love God with All Your Heart, Soul, Mind, and Strength
Answers: Catholic Advice for Your Spiritual Questions