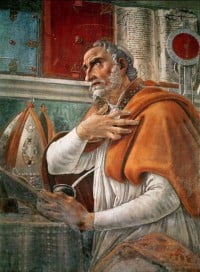 Keep your perspective
We get so caught up in our hopes and fears that we forget what's really impor­tant. If we keep our eyes on eternity, says St. Augustine, nothing we're afraid of and nothing we want can seduce us away from the right path.
Remember that Christ has promised us eternal life. "And this," says John, "is what he has promised us, eternal life. I write this to you about those who would deceive you."
Don't let anyone seduce you to death. Desire the promise of eternal life.
What can the world promise? Let it promise anything—it may be making that promise to someone who will die tomorrow. And then how will you look when you go to the One who lives forever?
"But a powerful man threatens me, so I have to do something evil."
What does he threaten? Prisons? Chains? Fires? Torments? Wild beasts? Yes, but not eternal fire. Fear what the Almighty threatens; love what the Almighty promises; and then the whole world becomes vile in our sight, whether it promises or terrifies.
–St. Augustine,
Homily 3 on the First Epistle of John,
12
IN GOD'S PRESENCE, CONSIDER . . .
How does seeing things from an eternal perspective change what I fear or hope for?
CLOSING PRAYER
Father, you raised your Son from the dead. Strengthen my hope in the resurrection, and bring me to live with him forever in joy.
_____________________________________________________________________________________________________
Remember to subscribe to my feed so you will not miss a day! This recurring feature at The Catholic Blogger is possible through the cooperation of author Mike Aquilina and publisher Saint Benedict Press. To get your own copy of this book, click below.