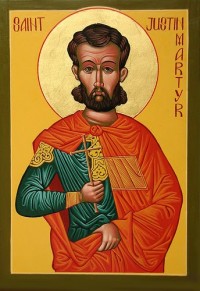 Why not choose death?
If heaven is so great, why don't you just kill yourself now? St. Justin Martyr explains to his pagan persecutors that God doesn't work that way. God made us for a reason; the time of our death is not our will, but his.
But someone might say, "Then why don't you all just go and kill your­selves, and pass over to your God right away, and not bother us anymore?"
I'll tell you why we don't kill ourselves—but why, when we are interrogated, we fearlessly confess.
We've been taught that God did not make the world for no reason, but for the sake of the human race. As I said before, he takes pleasure in those who imi­tate his attributes, and is displeased with those who embrace what is worthless, whether in word or in deed.
So if we all killed ourselves, we would become, at least as far as we were capable, the reason why no one should be born or taught the divine teachings, or even why the human race should not exist. In doing so, we would ourselves be acting in opposition to the will of God.
But when we are interrogated, we make no denial, first because we are not conscious of any evil, but count it impious not to speak the truth in everything— which we also know is pleasing to God—and also because we very much desire to free you from an unjust prejudice.
–St. Justin Martyr, Second Apology, 4
IN GOD'S PRESENCE, CONSIDER . . .
Have I confidently placed my fate in God's hands?
Do I fearlessly confess to being a Christian—even when it looks like I might be a little less popular if I do?
CLOSING PRAYER
Lord, teach me to bear the sufferings you ask me to bear in this life, and let me come before you free from sin to enjoy peace and happiness forever in the life to come.
_____________________________________________________________________________________________________
Remember to subscribe to my feed so you will not miss a day! This recurring feature at The Catholic Blogger is possible through the cooperation of author Mike Aquilina and publisher Saint Benedict Press. To get your own copy of this book, click below.