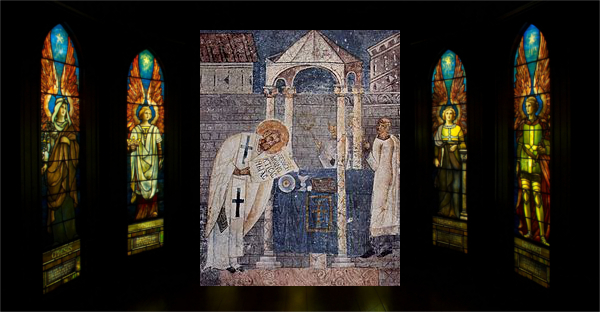 Honoring the saints goes back to the Apostles
St. Basil professes his Trinitarian faith, and invokes the saints as well—a practice he says has been handed down since the time of the Apostles.
According to the blameless Christian faith which comes to us from God, I confess and hold that I believe in one God, the Father almighty: God the Father, God the Son, God the Holy Spirit. I adore and worship one God, the Trinity.
I confess the incarnation of the Son in the flesh, and that St. Mary, who gave birth to him according to the flesh, was Mother of God.
I also acknowledge the holy Apostles, prophets, and martyrs, and I invoke them to pray to God, so that through them—that is, through their mediation— God who is merciful may show me favor, and a ransom may be made and given to me for my sins.
For that reason I also honor and kiss the faces of their images, since they have been handed down from the holy Apostles, and are not forbidden, but are in all our churches.
–St. Basil, Letter 360
IN GOD'S PRESENCE, CONSIDER . . .
Do I look on the saints as my friends in prayer? Or have I been a little embar­rassed about Catholic devotion to the saints?
CLOSING PRAYER
Mary, holy and blessed Virgin, pray to God for my sins, and help me be a more faithful servant. Keep me true to your Son until the day of my death, and let me come to give him praise with you forever. 
_____________________________________________________________________________________________________
Remember to subscribe to my feed at the top of the page so you will not miss a day! This recurring feature at The Catholic Blogger is possible through the cooperation of author Mike Aquilina and publisher Saint Benedict Press. To get your own copy of this book, click below.