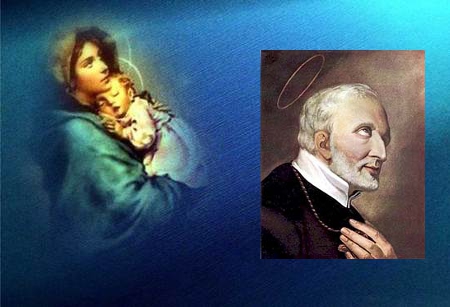 Divine graces come through Mary's hands
Since all graces are the fruits of Christ's redemptive work, St. Alphonsus reasons, they are contained in the treasure that God entrusted to Mary.
The Mother of God made a tremendous sacrifice of her Son for the salvation of the world. Because of the great merit she acquired by this sacrifice, which she made to God, she was rightly called by St. Augustine "the repairer of the human race"; by St. Epiphanius, "the redeemer of captives"; by St. Anselm, "the repairer of a lost world"; by St. Germanus, "our liberator from our calami- ties"; by St. Ambrose, "the mother of all the faithful"; by St. Augustine, "the mother of the living"; and by St. Andrew of Crete, "the mother of life."
As Arnold of Chartres says, "The wills of Christ and of Mary were then united, so that both offered the same holocaust. In this way she produced with him the one effect, the salvation of the world." At the death of Jesus, Mary united her will to that of her Son—so much so, that both offered one and the same sacri- fice. For this reason the holy abbot says that both the Son and the mother effected human redemption, and obtained salvation for men: Jesus by offering satisfaction for our sins, Mary by obtaining the application of this satisfaction to us.
If Mary, then, having by the merit of her sorrows, and by sacrificing her Son, became the mother of all the redeemed, it is right to believe that through her hands divine graces—and the means to obtain eternal life that are the fruits of the merits of Jesus Christ—are given to men. St. Bernard alludes to this when he says: "When God was about to redeem the human race, he deposited the whole price in Mary's hands." By these words, the saint teaches us that the mer- its of the Redeemer are applied to our souls by the intercession of the Blessed Virgin. For all graces, which are the fruits of Jesus Christ, were contained in that price of which she had charge. —St. Alphonsus Liguori, The Glories of Mary
IN GOD'S PRESENCE, CONSIDER . . .
What does it mean to say that "the merits of the Redeemer are applied to our souls by the intercession of the Blessed Virgin"?
CLOSING PRAYER
From a prayer of St. Athanasius: Give ear to our prayers, O most holy Virgin, and be mindful of us. Dispense to us the gifts of your riches, and the abundance of the graces with which you are filled.
____________________________________________________________________________________________________
Remember to subscribe to my feed so you will not miss a day! This recurring feature at The Catholic Blogger is possible through the cooperation of author Paul Thigpen and publisher Saint Benedict Press. To get your own copy of this book, click below.