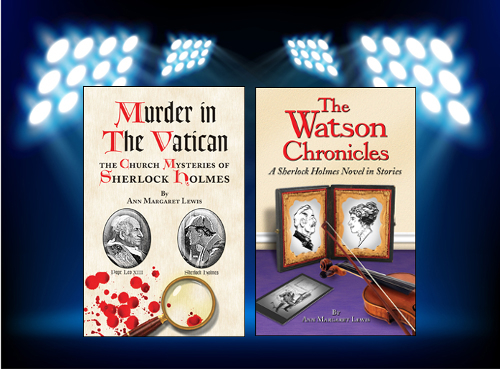 As you can probably tell I have always been a voracious reader. Growing up mysteries were my favorite genre. I can recall in my school days when I would anxiously await a trip to the library to get the next Hardy Boys volume. The older I got my love of mysteries remained. I moved beyond Franklin W. Dixon's Hard Boys to perhaps the most well known detective of all time…..Sherlock Holmes. Sir Arthur Conan Doyle hooked me immediately with his super sleuth Holmes. It has been some time since I have read an adventure of Holmes until recently. Prior to a family vacation I decided I wanted to take something a little lighter to read. As I perused my pile of review books I stumbled upon two titles I had been neglecting. I am glad I found them because I was missing out on some treasures.
Author Ann Margaret Lewis brought back a special treat from my teen and early adult years of reading. Murder in The Vatican: The Church Mysteries of Sherlock Holmes
and The Watson Chronicles: A Sherlock Holmes Novel in Stories are her foray into the world of Sherlock Holmes. Now that I have read each I must say she has contributed two worthy titles to the Sherlock Holmes genre. As I stated earlier I am not by any means new to Sherlock Holmes. The traditional canon of 56 short stores and 4 novels written by Sir Arthur Conan Doyle have long been favorites of mine. A Study in Scarlet, The Hounds of the Baskervilles, A Scandal in Bohemia, The Adventure of the Red-Headed League and The Adventure of the Speckled Bandall hold fond memories for me so when I dived into Murder in the Vatican: The Church Mysteries of Sherlock HolmesI had some expectations. I can tell you I was not disappointed.
Ann's writing style takes the reader back to the now infamous 221B Baker Street address made famous by Sir Arthur Conan Doyle. As I read the books I had to double check the author. Ann's portrayal of Dr. John Watson's narrative was spot on. Throughout both of the titles I found myself immersed in the world I had long ago stopped reading of. Ann gave me tales that allowed me to pick up right where I had left off. I cannot over emphasis this point because it is so important. Had this project been mishandled the end result would have been a huge disappointment for any Sherlock Holmes fan. You can tell that Ann put much time and research into these books. Throughout she drops subtle hints to the original canon stories of Holmes and even adds some new twists that I will not give away here.
These stories are engaging and I found myself not willing to put the book down until I was finished.
Murder in the Vatican
comprises three new tales f Sherlock Holmes. In
The Death of Cardinal Tosca
Holmes is hired by Pope Leo XIII himself to solve the murder of a Cardinal inside the walls of the Vatican. In
The Vatican Cameos
Pope Leo once more calls on Holmes to solve a mystery. This time around a set of priceless cameos are stolen.In an interesting twist Dr. Watson is occupied and cannot assist Holmes on his case. So as Pope Leo states, he plays Holmes' Watson on this particular case. The book ends with
The Second Coptic Patriarch.
Holmes finds himself solving yet another murder and this time a very special guest appearance is made by Father Brown of G.K. Chesterton fame.
Ann's follow up novel The Watson Chronicles is just as good as her first Holmes offerings. This volume contains twice the stories as the first. These six stories are separate tails but woven together by two common themes. First the book takes place near the end of Holmes' career as he contemplates a retirement filled with the raising of bees. Second now that Watson faces a potential future without Holmes he must rediscover his own way and in the process……discovers love. Just as with her previous Holmes endeavor Ann does a great service to the legacy of Holmes.
I cannot recommend enough both of these books. Ann Margaret Lewis weaves connections and hints to the original Sir Arthur Conan Doyle's tales throughout her two offerings. In effect she makes her stories fit in nicely with the originals. I found her use of the Catholic faith hidden in the background and coming out when necessary, a delightful touch. I must admit as I read these tales I almost felt as if I myself were in the sitting room on Baker Street gazing at Sherlock Holmes puffing on his pipe as he his mind worked his way through another impossible mystery. Bravo, Ann Margaret Lewis, bravo indeed!
___________________________________________________________________________________________