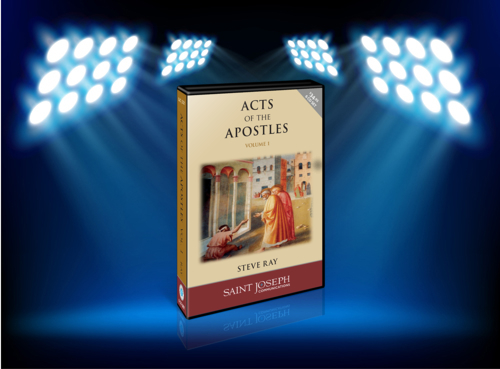 Steve Ray presents a gem in the Acts of the Apostles CD set from Saint Joseph Communications. In total this is a three volume set. This review will focus on the six CD first volume.
In volume one Steve takes a deep dive look at the first four chapters of the book of Acts. Leading off the talks is a discussion on the origins of the book itself. Steve provides some valuable background on historians believe wrote the book and when it was written.
I was totally blown away by Steve's presentation style. He has led numerous pilgrimages to the Holy Land which lent valuable insight to his talks. Not only was he able to effectively relay the history of the books but the personal stories he was able to sprinkle throughout the talks about the actual sights made the talks much more fixating and real.
Volume one was fantastic and I cannot wait to listen to the other two volumes in the set. I will say however that you may want to listen to this more than once. I have to point this out once more. With this talk you are getting six roughly hour-long CDs on just the first four chapters of the Acts of the Apostles. To say it's packed with information is putting it simply.
From the publisher:
The beginning of the Church began with the descent of the Holy Spirit during Pentecost. In this first volume, focusing on chapters one through four, Steve Ray gives insight into this monumental event.
Throughout this 3-volume study, Steve Ray offers an exhaustive examination of the Acts of the Apostles. A continuation of Luke's Gospel, this is the only book of the New Testament which continues the story of Jesus into the Early Church.
You'll be amazed as you learn how the Holy Spirit carefully guided and directed the Apostles and their appointed successors. You will also discover how these first followers of Jesus heroically witnessed to the Gospel message, even to the point of shedding their own blood.
_____________________________________________________________________________________________________
I received a copy of the disc set from the publisher in exchange for an honest review.