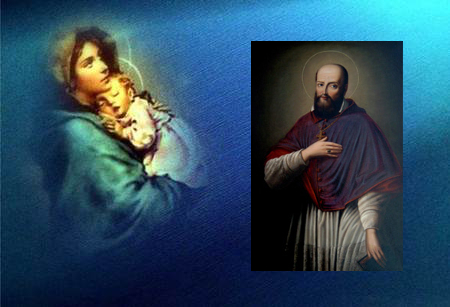 Mary's obedience in presenting Jesus in the temple
St. Francis de Sales explains how Mary wasn't obliged to follow the laws for her purification, but submitted to them anyway to avoid scandalizing others.
Our Lady and sacred mistress was not afraid of disobeying the laws of purification, because she was in no way obliged to the Law, which was not made for her or her Son. Rather, she feared the shadow of disobedience. For though she, being all pure, had no need of being purified, if she had not come to the temple to offer our Lord and be purified, some may have wished to investigate why she had not done as the rest of women.
Thus she comes today to the temple to remove all suspicion from men who might have wondered about her. She comes also to show us that we ought not to be satisfied with avoiding sin, but that we must avoid even the shadow of sin. Neither must we stop at the resolution not to commit such and such a sin; rather, we must fly even from the occasions that could serve as a temptation to fall into it.
She also teaches us not to be satisfied with the testimony of a good conscience, but to take care to remove every suspicion in others that will make them unedified by us or by our conduct. I say this for certain people who, being resolved not to commit some sins, are not careful enough to avoid the suggestion that they would willingly commit them if they dared.
Oh, how this example of most holy obedience that our Lord and Our Lady give us should incite us to submit ourselves absolutely and without any reserva- tion to the obedience of all that is commanded us and, not satisfied with that, to observe also the things that are counseled in order to make us more pleasing to the divine Goodness! —St. Francis de Sales, Sermon for the Feast of the Purification
IN GOD'S PRESENCE, CONSIDER . . .
Do I imitate Mary's obedience? Am I careful to avoid even the appearance of sin, so that I won't scandalize others?
CLOSING PRAYER
From a prayer of St. Louis de Montfort: O my Savior, grant that, doing willingly what is ordained for us, and endeavoring to believe it is best, we may spend our whole lives in continual obedience, and thus secure for ourselves your grace in time, and your glory for all eternity.
___________________________________________________________________________________________________________
Remember to subscribe to my feed so you will not miss a day! This recurring feature at The Catholic Blogger is possible through the cooperation of author Paul Thigpen and publisher Saint Benedict Press. To get your own copy of this book, click below.