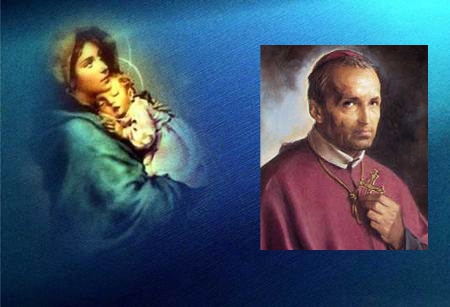 God received Mary's consent to Jesus' death
St. Alphonsus explains that when Mary presented Jesus in the temple, she was giving her consent to God's plan for him to die for the world.
The Eternal Father had already determined to save man, who was lost by sin, and to deliver him from eternal death. But because God willed at the same time that his divine justice should not be defrauded of a worthy and due satisfaction, he didn't spare the life of his Son, who had already become man to in order redeem man. Instead, the Father willed that his Son should pay with the utmost rigor the penalty that men had deserved. "He who did not spare his own Son but gave him up for us all" (Rom 8:32). The Father sent the Son to earth, then, to become man. And he destined for his Son a mother, and willed that this mother should be the Blessed Virgin Mary.
God did not will that his divine Word should become her Son before she had given her express consent to accept him. In the same way, he also did not will that Jesus should sacrifice his life for the salvation of men without Mary's concurring assent. In this way, together with the sacrifice of the life of the Son, the mother's heart might also be sacrificed. St. Thomas teaches that mother- hood gives a woman a special right over her children. For this reason, since Jesus in himself was innocent and undeserving of punishment, it seemed fitting that he should not be condemned to the Cross as a victim for the sins of the world without the consent of his mother. In this way, she would voluntarily offer him to death when she presented him in the temple.
From the moment she became the mother of Jesus, Mary consented to his death. Yet God willed that on this day she should make a solemn sacrifice of herself, by offering her Son to him in the temple, sacrificing his precious life to divine justice. And now we begin to see how much this sacrifice cost her, and what heroic virtue she had to practice, when she herself assented to the sentence by which her beloved Jesus was condemned to death. —St. Alphonsus Liguori, The Glories of Mary
IN GOD'S PRESENCE, CONSIDER . . .
If I have children, have I imitated Mary's example by presenting them to God and consecrating them to his service? Do they know that they have been consecrated this way?
CLOSING PRAYER
Mary, help me make a precious gift of my children to our Lord, entrusting them to his care, and seeking to help them fulfill his mission for their lives.
__________________________________________________________________________________________________________