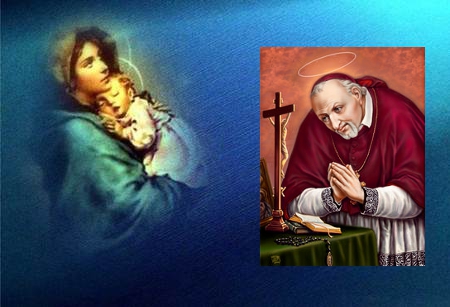 Mary would gladly have suffered instead of Jesus
St. Alphonsus notes that Mary would willingly have taken her Son's place in suffering, but she was obedient to God's will and plan.
Consider how much it must have cost Mary, and what strength of mind she had to exercise, in this act by which she sacrificed the life of so amiable a Son on the Cross. Behold, then, the most fortunate of mothers, because she is the Mother of God. Yet at the same time, she was of all mothers the most worthy of compassion.
For she was the most afflicted, in that she saw her Son destined to endure the Cross from the day on which he was given to her.
What mother could accept a child, knowing that she would afterward lose him miserably by a shameful death—knowing, even more, that she herself would be present and see him die this way? Yet Mary willingly accepts this Son on so hard a condition. And not only does she accept him; she herself offers him to death on the day of his presentation in the temple, with her own hand, sacrific- ing him to divine justice. St. Bonaventure says that the Blessed Virgin would have accepted the pains and death of her Son far more willingly for herself. But to obey God, she made the great offering of the divine life of her beloved Jesus. She overcame, but with overwhelming grief, the tender love that she bore him.
"Could it have been so," St. Bonaventure comments, "she would willingly have endured all the torments of her Son in his place. But it pleased God that his only-begotten Son should be offered for the salvation of the human race." For this reason, in this offering, Mary had to do herself more violence, and was more generous, than if she had offered herself to suffer all that her Son was to endure. In this way, she surpasses all the martyrs in generosity. For the martyrs offered their own lives, but the Blessed Virgin offered the life of her Son, whom she loved and esteemed infinitely more than her own life. —St. Alphonsus Liguori, The Glories of Mary
IN GOD'S PRESENCE, CONSIDER . . .
Am I grateful to, and supportive of, parents who must generously accept the possibility that their children could die in fulfillment of a necessary mission as sol- diers, law enforcement officers, or emergency personnel? Have I asked Mary to be with them in their anxious moments?
CLOSING PRAYER
Father, with my Blessed Mother, I will let your peace, which surpasses all understanding, guard my heart and mind in Christ Jesus (see Phil 4:7).
___________________________________________________________________________________________________________
Remember to subscribe to my feed so you will not miss a day! This recurring feature at The Catholic Blogger is possible through the cooperation of author Paul Thigpen and publisher Saint Benedict Press. To get your own copy of this book, click below.